This page/post may contain affiliate links. As an Amazon Associate, as well as an affiliate of other programs, this means if you purchase something using these links, I will receive a commission on qualifying purchases at no cost to you! For more detailed information, please visit our Affiliate Disclaimer page
The tribe of Benjamin was led by Benjamin, the youngest son of Jacob, by his wife, Rachel. Rachel died while giving birth to him.
He has a rich history and his descendants include many famous and important biblical figures.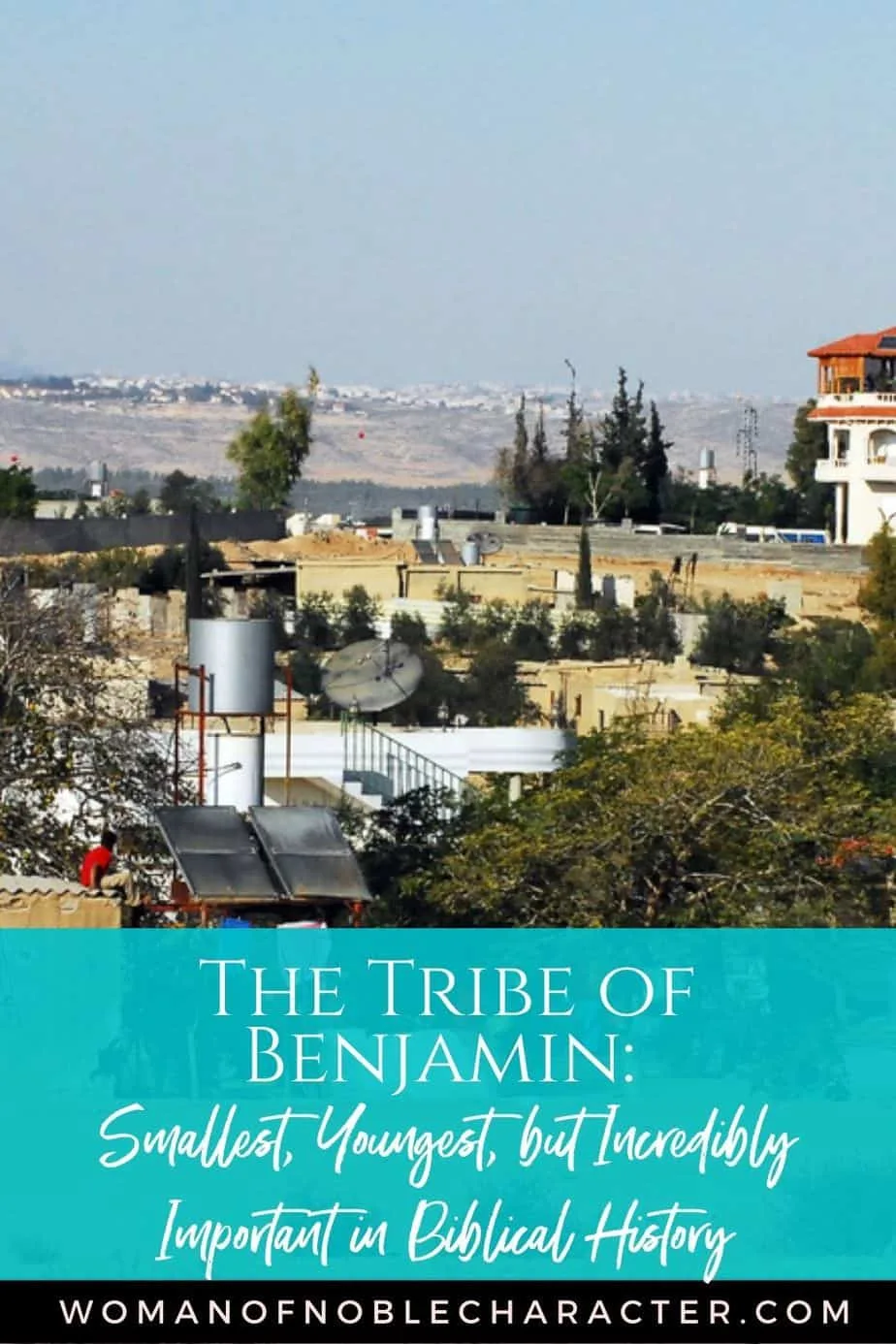 Compared with many of the other tribes of Israel and their descendants, the tribe of Benjamin is not mentioned nearly as often. However, as you will see, the tribe of Benjamin is very noteworthy and many of the most famous of Bible stories involve his descendants.
Before we get into that, let's look at the history of the tribe of Benjamin.
You may enjoy my book,
The 12 Tribes of Israel (or is it 14?) & Lessons We Can Learn by Susan J Nelson
The History of the Tribe of Benjamin
The tribe of Benjamin was involved in numerous battles. Under the Judges, the tribe of Benjamin was part of the battle led by Deborah and Barak against Sisera. They were also engaged in the catastrophic battle with Israel we read about in Judges 20:20.
The first king of Israel, Saul, was from the tribe of Benjamin (more on his descendants below). His appointment to this position increases the prestige of the tribe.
After Saul's death, the tribe of Benjamin remained faithful to his house.
The Israelite army was commanded by Abner for Ishbosheth, Saul's son. The army was made up of mostly Benjamites. They were quite successful in mounting considerable opposition to the appointment of David as king.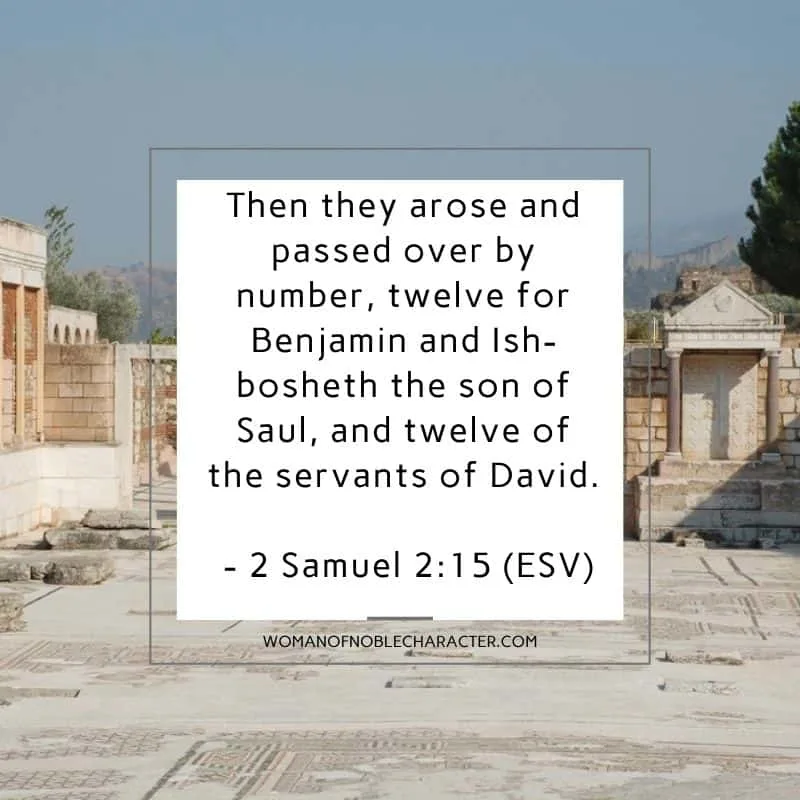 The tribe of Benjamin continued to oppose David being named as king.
When David returned to Jerusalem and was a favorite of Judah, it was a Benjamite (his name was Sheba) who started a revolt. All except Judah followed him and it was Joab who pursued him on behalf of David. He was betrayed by a woman of Abel of Beth-maachah and was slain.
At the division of the kingdom, we might have expected Benjamin to join in the revolt against Rehoboam and secede with the other tribes leaving Judah alone. Some passages support this (1 Kings 12:20) while others state explicitly that Benjamin remained with Judah.
In Jerusalem, there were two gates named for Benjamin. One was in the temple and the other, many scholars believe, was the one that is often referred to as the "sheep gate" in the North wall of the city.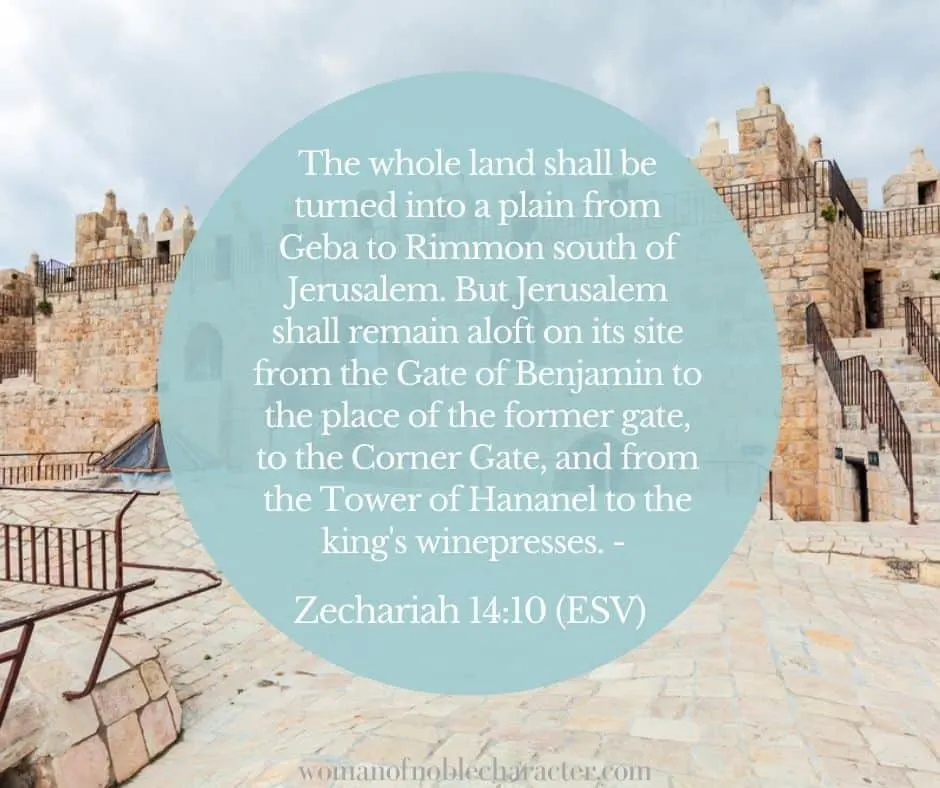 The tribe of Benjamin is known for its skillful archers and slingers. One fun fact about the Benjamite warriors is that they were ambidextrous, being able to handle the sling equally well with either hand.
The tribe of Benjamin, however, had a dark side. Their warlike nature not only defended their country, we see in scripture that they also fought against the other eleven tribes and a civil war ensued. (Judges 19—21)
This period had the reputation of everyone doing what was right in his own eyes (Judges 21:25). What led to the civil war was the horrific abuse and death of an unnamed Levite's concubine (Judges 19:10–28). The eleven tribes turned against the tribe of Benjamin and nearly annihilated them because of their refusal to give up the perpetrators (Judges 20:1—21:25). Eventually, the tribes restored Benjamin's tribe, greatly diminished due to the war, and the country reunited.
At the time of the first census under Moses, the able-bodied men available for war from the tribe of Benjamin were given as 35,400 (Numbers 1:37) and at the second census, 45,600 (Numbers 26:41).
The Territory of the Benjamites
The exact or specific boundary lines of the tribe of Benjamin have been impossible for biblical scholars to determine with certainty. We can look at relevant passages in Joshua to give us an estimate.
Generally, Benjamin's territory sits in between the territory of Judah to the South and that of the territory of Joseph to the North.
In Joshua 18:21-27 we see a list of the many cities and towns contained within the territory of Benjamin, and, included among them are Jebus (Jerusalem) and Jericho.
Wherever the actual Western border is located, the tribe of Benjamin's territory was located strategically for battle and warfare.
The main thoroughfare of the region runs North to South right through it.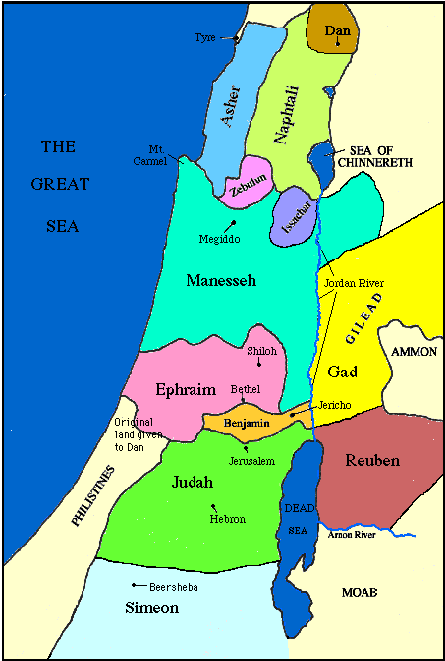 Jacob's Blessing to Benjamin
On Jacob's deathbed, he famously gave each of his sons a blessing. As the youngest, Benjamin received his last.
The warlike nature of the small tribe of Benjamin became well known, as exhibited in their swordsmen and in their ungodly defense of their extreme wickedness in Gibeah (Judges 19—20).
Benjamin's blessing has three parts. Compared to a wolf, his blessing has two-time frames, morning and evening; it has two actions, devouring and dividing, and two outcomes, prey and spoil. This sets up a type of "before and after" experience for Benjamin and his offspring.
We do know, however, that Jacob doesn't appear to learn from his mistake of playing favorites with Joseph, because he does the same with Benjamin. When Joseph, as governor over Egypt is unrecognized by his brothers, Joseph tests them by threatening to enslave Benjamin for "stealing" from him (Genesis 44). His brothers beg Joseph to let someone else take Benjamin's place.
Jacob would not let Benjamin go to Egypt with the other brothers, showing his favoritism for his youngest living son.
What Does Benjamin's Blessing Mean?
So, we know, from above, that Benjamin's blessing has three parts. Jacob describes Benjamin (and the tribe of Benjamin) as a wolf that devours his prey in the morning and divides his plunder in the evening.
According to John Gill's commentary, wolves are a symbol of military valor. This means this tribe would have military success, which sheds light on the rest of the blessings of prey and plunder.
This symbolism is important later when we read about the disciple Paul, who was also from the tribe of Benjamin (more on this below). In the" morning" of Paul's life, he "devoured" Christians, but by the end of his life, he enjoyed the spoils of the Christian walk, and eternal life, his "plunder".
The form you have selected does not exist.
Key Figures from the Tribe of Benjamin
Scripture tell us that at least four biblically famous people came from the tribe of Benjamin, even though the tribe was the smallest of the twelve tribes of Israel.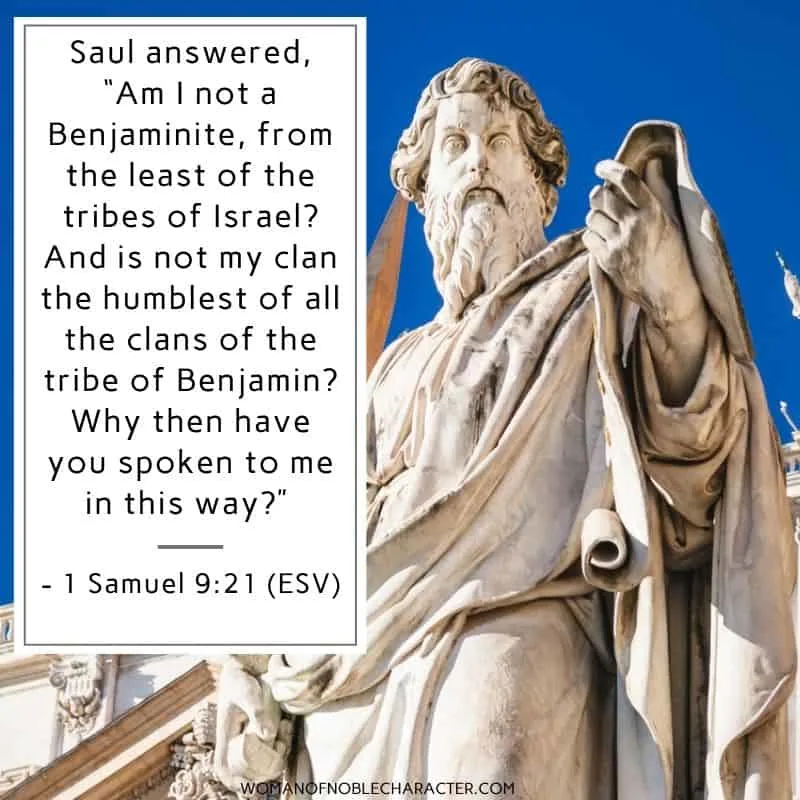 Ehud
The first great figure is Ehud. Ehud was a great warrior who saved Israel from Moab. Ehud was a rather obscure judge in Israel's history. He was also a left-handed assassin who defeated the king of Moab and restored Israel from their enemies. You can learn more about Ehud and his story in Judges 3:12–30.
Saul
Saul, the first king of Israel, was a Benjamite (1 Samuel 9:15–27). Saul had a great deal of military victory. However, at the end of his life, he strayed away from God and did not enjoy the spoils of the Christian walk. Earlier in his life, when he walked closer with the Lord, he often led Israel to the winning side of many military conquests (1 Samuel 11-20).
Esther
You may be surprised that Queen Esther also comes from the tribe of Benjamin. While she was, of course, not a military leader, she waged her own war to save her people, helping to undermine a plot to destroy the Jewish people after winning the heart of King Ahasuerus.
Paul
Finally, Saul, later known as Paul is the fourth famous member of the tribe of Benjamin. The Apostle Paul descends from Benjamin's line.
As discussed above, at one time, Paul sought to "devour" Christians. But once he was transformed by the power of Jesus and received salvation, he changed allegiances and experienced the "plunders" later in his life.
Lessons We Can Learn from the Tribe of Benjamin
1 God looks at our hearts
God doesn't see people as we do; God looks at our hearts. God saw a warrior inside of Benjamin. Others, however, saw him as the youngest son and the tribe of Benjamin as the smallest tribe. But God saw more, a man who would both devour and divide.
2 God Changes Our Nature When We Come to Him
The next lesson comes for us when we look at the two Sauls, both from the tribe of Benjamin. King Saul, the embodiment of the sin nature and its war against God. Saul/Paul's nature was changed by God from a murderous Pharisee to the apostle of grace. Paul is the example of what God does for those who come to Christ in faith.
3 Military and Business Cunning Doesn't Always Win
Just because one has military prowess or business acumen doesn't always mean they will have a positive or winning life. Famously in Scripture, the tribe of Benjamin gang-rapes and kills a Levite concubine. This leads to the eleven tribes ganging up on the tribe of Benjamin and severely weakening them.
4 Our Earthly Position Doesn't Matter
All the important figures from the tribe of Benjamin had military strength, cunning (Esther and Ehud) and political savvy, except for Paul. All four held a high position of some type.
Paul ended up yielding his position when he followed Christ. We, as Christians receive a higher heavenly position when we gain our inheritance in Christ and graduate to heaven (2 Timothy 2:12).
if we endure, we will also reign with him;
if we deny him, he also will deny us; –
2 Timothy 2:12 (ESV)
You may enjoy this short video on the tribe of Benjamin:
To dig even deeper, I've enjoyed these reference materials, and you may, as well:
The 12 Tribes of Israel (or is it 14?) & Lessons We Can Learn by Susan J Nelson
The Quest for the Ten Lost Tribes of Israel: To the Ends of the Earth by Rivka Gonen
Jacob's Dozen: A Prophetic Look at the Tribes of Israel by Will Varner, William C Varner
Would you add any lessons we can learn from the tribe of Benjamin? I'd love to hear from you!
ESV – "Scripture quotations are from The ESV® Bible (The Holy Bible, English Standard Version®), copyright © 2001 by Crossway, a publishing ministry of Good News Publishers. Used by permission. All rights reserved."