This page/post may contain affiliate links. As an Amazon Associate, as well as an affiliate of other programs, this means if you purchase something using these links, I will receive a commission on qualifying purchases at no cost to you! For more detailed information, please visit our Affiliate Disclaimer page
Mary of Bethany is one of the most beautiful characters in all of Scripture, and her life has valuable lessons for us. Mary was the sister of Martha, and Lazarus was also raised from the dead by Jesus.
Background of Mary of Bethany
Mary in John 12:1-8 is often confused with Mary Magdalene, and she has been misunderstood as a woman who was an adulteress (apparently since her hair showed so boldly?). However, it is the story of a woman who had faith and put her entire life into doing what she believed would please God.
She was deeply spiritual, knowing that Jesus would be sacrificing himself for others centuries ago. Mary gave all that she had and devoted it all to Jesus at that moment, and for that, she is one of the greatest people of faith in the Bible.
When we look at the scriptures, it's difficult to tell if Mary or Martha accompanied Jesus during His ministry throughout Galilee. What is certain, however, is that Christ regularly stayed in their home. There are several mentions of Jesus coming to or staying at their house in Bethany.
Bethany is a small town on the Mount of Olives, just east and near Israel's capital, Jerusalem. As the starting point for Christ's descent into the Holy City on Palm Sunday as well as his return to this village during Holy Week and even after his resurrection, you can understand why it is so significant.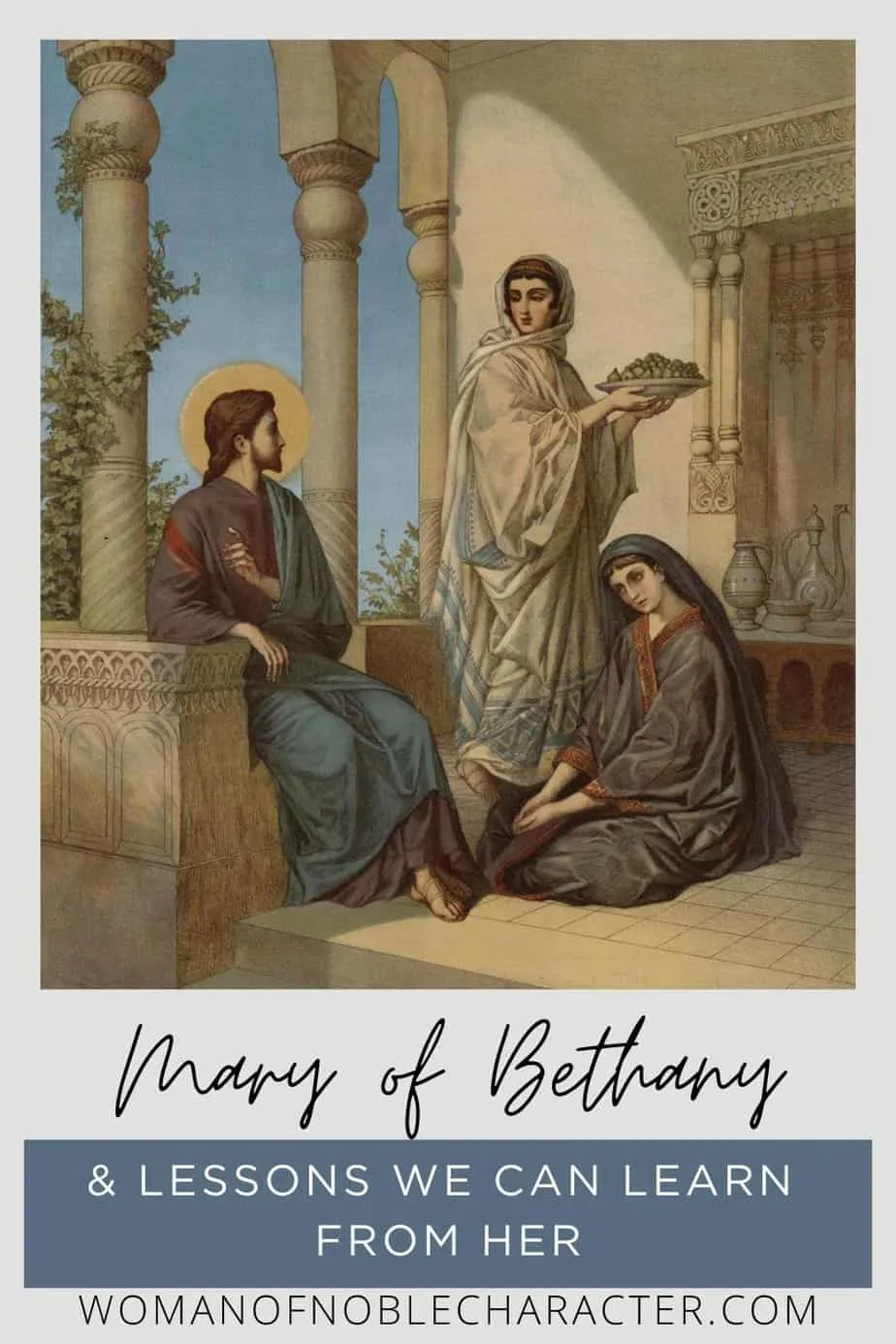 We can only guess the ages of these two sisters. Scripture shares no biographical data about them. No mention of their parents or other family. No mention of having been married or having any children.
The only possible conclusion we can draw from the gospels is that Mary and Martha were either unmarried or recently widowed. This is a huge departure from the typical Jewish womanhood of that time, but the sisters remained pretty well off. This is clear from their ability to live independently as well as support Jesus' ministry.
Scripture seems to support this because they could afford to provide a special burial site for their brother, Lazarus, which was expensive and, therefore, a rare occurrence during biblical times.
Scripture refers to Mary three different times in the Bible, first with the incident in her sister's home, Martha (Luke 10:38-42), where Jesus, and most likely the disciples who traveled with Him, were entertained.
Martha was so frustrated and "distracted with much serving" that she actually rebuked Jesus, accusing Him of not caring about how Mary sat at His feet while He did all the work. Jesus' response is a window into the life of Mary of Bethany.
Jesus commended her for "choosing the better," meaning that Mary's desire to be near her Lord and hang onto His every word was far more beneficial than running herself ragged with preparations for a meal. Jesus told Mary that choosing the better thing and learning of God would not be taken away from her.
By "choosing the better," Jesus meant that those whose priority in life is Christ, the knowledge of Him, and nearness to Him have chosen what will last through eternity, such as the "gold, silver and costly stones" referred to in 1 Corinthians 3:11-12.
We see that those who focus too much on earthy things are building their foundation with wood (exterior), hay (interior), and straw – which can easily burn down during challenging moments but has no lasting value because it was made from these material objects.
Martha's rebuke of Jesus gives us insight into her heart and mind as she tried to make everything perfect and was so distracted that she lost sight of whom she was speaking.
Mary's lack of concern for herself, which we will see again in another incident and through her silence, indicates that she doesn't need to defend or explain anything. When we focus on Christ, self-absorption fades, and passion for Him grows.
The second story of Martha and Mary of Bethany occurs in John 11 when Jesus raises their brother Lazarus from the dead. Hearing that Jesus has come and is calling for her, Mary of Bethany leaves the assembly of mourners in her home to meet him. Her love for Him is so great that she leaves those who had come to comfort her and places herself in the arms of God.
Jesus knows that the woman's sadness will be short-lived and her brother restored to him momentarily, but He still weeps with her.
When we feel the pain of a broken heart, it is always best to turn toward Jesus because his compassion will never end. When we place our hand in the nail-scarred hand, we find comfort, peace, and security, and we learn the truth of Psalm 30:5:
The third and final time we see Mary of Bethany is just days before Christ's crucifixion. (John 12:1–8). Martha was again serving while the resurrected Lazarus reclined at the table with Jesus and his disciples. Mary's love for Jesus knows no bounds. She would do anything to make him happy, including pouring expensive perfume on his feet and wiping them with her hair!
Though Judas Iscariot criticized her for wasting the costly substance, Mary remained silent. Finally, Mary allows Jesus to defend her, which he does by saying that she has kept this perfume for his burial and performed an act of service.
We see two incredible things about Mary of Bethany from which we can learn. First, she seems to know that the time of Jesus' death on  the cross was at hand, which had escaped his disciples despite him clearly stating this truth. There is no doubt that Mary delighted to listen to her Lord and meditate on his words while the disciples argued about who would be the greatest among them.
Second, Jesus told them He would die and be raised from the dead. The disciples didn't understand what he meant, but by not listening to His words about this matter, they missed an important truth.
They went on from there and passed through Galilee. And he did not want anyone to know, for he was teaching his disciples, saying to them, "The Son of Man is going to be delivered into the hands of men, and they will kill him. And when he is killed, after three days he will rise." But they did not understand the saying and were afraid to ask him.
How often do we miss spiritual truths because we are self-focused and overly concerned about our rewards, status, and reputation among men?
In this passage, we see that Mary had settled confidence in her Lord and did not feel compelled to defend herself when faced with criticism. The desire for others' approval can often lead us down a path of self-justification. We might feel the need to prove ourselves and earn their respect, which sometimes takes precedence over doing what's right by God.
Mary's story is a perfect example of what can happen when we prioritize sitting at Jesus' feet and listening. She had an intimate knowledge of Him, His love was unparalleled in her heart. She trusted entirely that He knew her intimately, as well.
The Bible is the ultimate source of knowledge for our lives. It provides all the understanding we need to live securely and confidently in faith like Mary of Bethany, who sat at Jesus' feet listening to His teaching.
Jesus saw in Mary of Bethany a reflection of his own faith and appreciated her for how she understood him.
She simply got it. She trusted and followed Jesus' teaching to the fullest extent. Mary of Bethany's greatest legacy as a mother of our faith was that she understood so profoundly when others around her were missing all the cues. How incredible were her sensitivity and awareness!
The form you have selected does not exist.
6 Lessons We Can Learn From Mary of Bethany
Martha and Mary of Bethany in the Bible are More than Just Caricatures
Instead of seeing the complete scriptural picture of these two siblings, we have reduced them to caricatures of doing versus being. Nothing could be more of a disservice to these two important women of the Bible. Unnecessary shame has been placed on women who relate more to Martha's temperament than Mary's by turning their story into the moralism of "having a Mary heart, in a Martha world."
While this title may be catchy, it reduces these women to broad brushstrokes and is simply not a helpful summation of Martha and Mary of Bethany's actual encounters with Jesus in Luke 10:38 – 42.
Before we look at Mary of Bethany's actions when Jesus visited, let's briefly recap the correct way to understand Martha's response and Christ's view of it. Martha, always mentioned first, seems to have been the head of their household. Martha, the older sister and Mistress of the House is charged with extending hospitality to one's guests as is customary in Middle Eastern culture.
The obligation of the host was to provide for all material needs – including but not limited food-of those who were guests within their home. It would be considered shameful and dishonoring if one did less, which could bring shame to your household.
Martha is the head of this house, and she believes that it's imperative for her sister, Mary of Bethany, to assist them in serving guests. When Martha brings this concern to Jesus' attention, He sees that Martha has taken an interest in his well-being and does not discourage her efforts on their behalf or others. Jesus doesn't tell her to quit being hospitable.
He doesn't condemn or even redirect what Martha is doing. Jesus knew Martha was distracted by all of her tasks, so he shifted her to focus on what mattered. She should have been thankful for having such a guest in their home and not just serving him but also being ministered to by the one coming to serve them.
The ONE Thing in Our Lives Should Always be Jesus
Jesus never once addressed whether or not Mary of Bethany had neglected her responsibility as one of Jesus' hosts. Instead, Jesus highlights what Mary is singularly focused on – listening and learning from him. Earlier in the passage, Mary is described as "sitting at the Lord's feet". This is a poignant example of discipleship.
Sometimes when there's a dispute, the main point of argument gets lost in other ancillary issues. This may be the case in Martha's complaint against her sister, Mary of Bethany. If there is any issue at this moment, it is not in Mary's lack of help to Martha. It is in Mary's supposed presumption to sit at the feet of Jesus.
In the ancient world, people would sit at a rabbi's feet in order to one day become teachers themselves. However, in Jewish law and customs of that time, only men were allowed to adopt such a posture. Only males could speak with their teacher about the meanings and nuances of the Torah. No women were permitted to become disciples.
Does Martha realize that when she complains to Jesus, her rebuke of her sister, Mary of Bethany, is then also a rebuke of Jesus – for allowing this to happen? Mary of Bethany is not just violating not the social code in her culture of hospitality. She also has crossed a religious line in terms of discipleship. Jesus understands that Martha's real concern is implied in how he responds to her when announcing what Mary has chosen, "will not be taken away from her."
Sometimes it is ok to break Social and Religious Rules or Be Bold in Your Faith
Jesus is not only approving but rather declaratory about Mary's radical act. Mary had a choice to make, and she chose not to let anything come before or between following Christ and being instructed, guided, and following him. Earlier in this chapter, Jesus has provocatively asserted a Samaritan — can be good — equal to a Jew in loving one's neighbor (see Luke 10:25 – 37). Now, Jesus defends a woman's prerogative to be equivalent to a man in following God.
We aren't told in scripture how Mary of Bethany first came to meet Jesus. Mary demonstrates incredible courage and boldness in worshiping God not from a distance but up close despite the rules set by others. Mary of Bethany is the Rosa Parks of her day as she refuses to be seated in the back, instead taking a seat up front at Jesus' feet. Jesus promised that the place of discipleship would not be taken away from Mary.
Never Doubt Jesus
We next read, in the gospel of John, about Mary of Bethany and her sister Martha. Jesus' visit to Jerusalem was not one of hospitality but rather sadness. Their brother, Lazarus, who was likely younger than they were, has died. This passage hints at disappointment and frustration with Jesus and their obvious grief. Earlier, they had sent word to Jesus that Lazarus was sick.
The two sisters had been praying and hoping for a miracle from the One in whom they believed. But when Jesus finally arrives, Lazarus "had already been in the tomb for four days."
We are told that Martha goes out to meet Jesus when he comes, "but Mary stayed at home." It is not clear why Mary of Bethany was absent. People often feel let down by God when they experience losses in their lives. The suffering you have experienced can make it difficult to believe that everything will work out okay.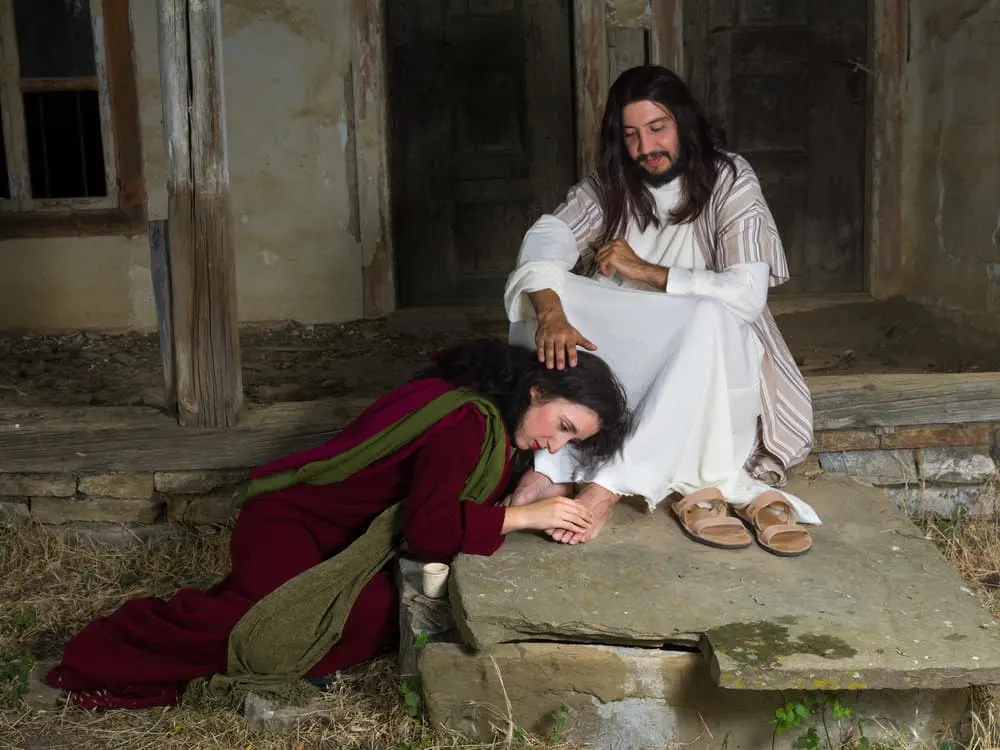 Perhaps Mary could not understand how the Lord, Who claimed to love her and her family, could let this happen. Was Mary's faith in Christ tested when she felt like drowning in sorrow?
Mary doesn't visit with Christ until her sister, Martha, comes back, pulls her aside, and says, "The Teacher is here and is calling for you." After that, Mary can no longer hide or avoid Jesus. She quickly pulls herself together and gets up to go to Jesus. When Mary approaches him, she adopts the same posture we last saw in Luke, chapter 10: "She fell at his feet" (John 11:32).
Grief – especially in response to the passing of someone we love – often brings us to our knees. But Mary of Bethany doesn't just fall to pieces in the acute pain of her loss. Instead, she assumes the position of a disciple, collapsing before the only One who has the words of eternal life. Mary looks up to the One her sister, Martha, just confessed to being the "Christ, the Son of God, who is coming into the world."
Her first words to Jesus at this moment are a repetition of what her sister said earlier s "Lord, if you had been here, my brother would not have died" (see John 11:32 below). But unlike Martha, Mary is silent. She doesn't speak up in defense or assurance of what Christ can do. We can relate to the fact that Mary's faith in Jesus was still a work in progress. She had her ups and downs, just like we do!
The discipleship of any person is not perfect – but it's comforting knowing there will always be room for improvement when you follow your master who became human so He could show us how great His love is.
We can take courage from the way that Jesus handles this situation. First, he doesn't criticize or judge Mary for how she expresses herself, which is comforting when grieving because it shows he understands our pain just as much–if not more than anyone else does!
Jesus with Mary of Bethany, as with us all, is more than willing to bear the burden of our anger, frustration, pain, and sense of loss.
Death has broken Mary of Bethany down. She feels that there is no hope for Lazarus. He is dead. The grief moves Jesus felt from her pain, and he shares in it too. The One who has the power to take death away is also profoundly moved by its sting. Jesus sheds tears for us, too!
This moment's significance can be overshadowed by the startling and miraculous raising of Lazarus from the dead. The character and purpose of God revealed in Christ can be seen by observing how He enters into Mary's grief. We are assured that one day when Jesus returns to earth and gathers his people together again in glory, those who have died will be raised up with him. This hope for our future should give us peace as we await its fulfillment!
Unfortunately, Lazarus being raised from the dead is an exception and not a rule. We cannot relate to this part of Mary of Bethany's experience in this life. We can, however, empathize and find comfort in the fact that Christ meets Mary in her tears – in the place where she aches and hurts.
Death was not part of God's Original Plan
Contrary to what many suggest, death is not part of the circle of life. Death is an indelible smudge in the perfection of God's creation. We were meant to be everlasting! Death is not our friend. Death imparts a false attraction as an escape or alternative to the brokenness of our world. Death may appear to be a relief, but in actuality, death robs humanity of the life we were meant to live forever.
Death is our enemy. Death is a symbol of all that is wrong with creation. That death is a violation, the ultimate wrong, is reflected in our sense of shock and outrage when it strikes us and our overriding fear and resistance to it when its shadow lingers over us.
Death was also offensive to Jesus. Death takes what belongs to God: life. Death leaves misery, chaos, and confusion in its wake — all of which run against the order, peace, and joy the Lord intended for us and all of creation. Jesus meets us in our grief. His sacrifice on Calvary provides meaning to life's hardships and hope in an everlasting future where he will conquer death once again! In the raising of Lazarus, Mary saw a glimpse into what Christ does for all people.
What Others Find Offensive, God May Find Noble
Whatever the manner in which this pure nard was poured out on Jesus, "the house was filled with the fragrance of the perfume" (see John 12:3). The smell of oil that resulted in those present becoming incensed by Mary's actions is a crucial detail given only from John.
In Ancient Near Eastern hospitality, it was customary for a guest in your home to provide water in a bowl for them to wash their feet after traveling on the dusty roads of Israel and before reclining at the table for a meal. One could add oil droplets to give the water and one's feet a pleasant aroma. However, for Jews, the Torah commanded one not to be wasteful. Therefore, an observant Jew was not to be extravagant or wasteful in the amount of oil used – especially, expensive perfume like pure nard.
The three gospel writers are unclear about who exactly is offended by what Mary of Bethany does. Mark writes it was "some people," Matthew denotes it was "the disciples," and John specifies it was "Judas Iscariot" who was offended. Whether it was one person complaining or several who had an issue, the objection was the same; the value of the perfume would have been better served if converted to money to be used for the poor.
He or they feels that Mary of Bethany is being wasteful. She is not only violating a tenet of the Hebrew Law, but she also is practicing poor stewardship. What amounts to a full year's wages for labor, what could have benefited those in need, has been carelessly thrown away in a public act of unnecessary extravagance. And so, Mary is scolded and shamed publicly.
But Jesus disagrees. He supports Mary of Bethany and her actions. Jesus claims that what Mary has done is a "beautiful" thing to Him (see Mark 14:6 below or Matthew 26:10). He frames this moment as Mary lovingly anointing or preparing him for his impending death. In John's account, Jesus implies that Mary has done this in a prophetic way – "Leave her alone, so that she may keep it for the day of my burial" (John 12:7).
There is a fascinating parallel between what happened here and when it takes place to the tradition of selecting and preparing the lambs for the Passover feast. Passover lambs were selected six days in advance. Then, for five days, the Passover lambs were allowed to enter homes and inspected for any sign of defect. The body and quarters of a lamb were easily damaged and marked in the rocky hillsides they grazed upon.
Finally, the lambs are anointed on the fifth day with aromatic oils before they go for a final inspection. So, "six days before the Passover," as Jesus' feet and ankles are being rubbed with pure nard, he is prophetically consecrated as the spotless Lamb of God who will take away the sins of the world.
Mary of Bethany does not speak as she interacts with or anoints Jesus. She does not answer back when she is publicly rebuked for her actions. Instead, she simply allows her actions to communicate her devotion and gratitude to her Lord. Mary may have remained silent but as Jesus goes on to add in Mark and Matthew's version of this story, "And truly, I say to you, wherever the gospel is proclaimed in the whole world, what she has done will be told in memory of her." (see Mark 14:9 below and Matthew 26:13).
Biblical scholars have speculated that if Mary of Bethany was unmarried, then perhaps this perfume is what would have been given as part of her dowry. If this is true, it only enhances the sacrificial nature of her service. Others have written that Mary of Bethany could have privately performed this act of honor upon Jesus. However, Mary may have sensed this would be the last time she would see Jesus before his death. Maybe she believed she couldn't afford to wait — to risk not being able to demonstrate her deep love and appreciation for Jesus. And so, once again, Mary breaks with social convention and religious custom to get as close to Christ as possible — and to honor him.
Wrapping it All Up
In all three accounts of Mary of Bethany, we see her at the feet of Jesus – in the demeanor of a disciple. She models for us what adopting a posture of submission and dependence upon Christ looks like, whether it be in the everyday privacy of one's home, in the throes of our suffering and lament, and even in a larger public gathering, sometimes under the cruel scrutiny of others. Like Mary of Bethany, let us lean into every moment as an opportunity for both worship and service. Let us demonstrate the worth of Jesus by attending to Christ first in our lives, whether in expectation or disappointment or joy or sorrow.
You may enjoy this video by the International House of Prayer on Mary of Bethany.
You may also enjoy these recommended resources for further study on Mary of Bethany.
Mary of Bethany by Eric William Gilmour
The Women of Easter: Encounter the Savior with Mary of Bethany, Mary of Nazareth, and Mary Magdalene by Liz Curtis Higgs
Questions to Ponder and Discuss
What does it look like when we live in a posture of learning from and following Jesus just as Mary of Bethany did?
How are you seeking to adopt such a posture in your walk with Christ?
There are three areas that we can draw closer to the feet of Jesus – in our day-to-day life, in the places of grief and loss, or/or in public gatherings. In which of the three areas do you need to draw closer to the feet of Jesus?
What do you think the modern-day equivalent is to Mary's love and devotion when she anointed Jesus' feet?
Identify one heartfelt thing that you can do for Jesus this week that reveals your heart of love and devotion to him.
Prayer
Heavenly Father, please teach me to have the same posture of devotion to your Son Jesus Christ as Mary of Bethany. Make me, like her, one who sits at Your feet and hangs on Your every word. Help me to come when You call — even when I grieve, even when I am disappointed in You.
Remind me that, like Mary, I can be honest about my fears, doubts, frustrations, and hurts. I can share it all with you. Encourage and empower me to express my gratitude to You and my love for You extravagantly — not only in the privacy of my home but publicly before others. Direct me to live for You before others in a way that will be like Your Son — leading others to know and love You as I do. Amen.
ESV – "Scripture quotations are from The ESV® Bible (The Holy Bible, English Standard Version®), copyright © 2001 by Crossway, a publishing ministry of Good News Publishers. Used by permission. All rights reserved."