This page/post may contain affiliate links.  As an Amazon Associate, as well as an affiliate of other programs, this means if you purchase something using these links, I will receive a commission on qualifying purchases at no cost to you! For more detailed information, please visit our Affiliate Disclaimer page
While prayer is the fellowship and regular dialogue we have with our Father, our talking to Him and sharing our hearts, Christian meditation is the listening side of this relationship. God speaks and teaches us; our job is to hear and obey.
Wait? Meditation? Isn't that new age stuff? Many who hear the word meditation immediately thing of legs crossed, repeating a mantra and other new age images.
Given those images, I think it is important to cover what biblical meditation is not.
What Christian Meditation is Not
New Age or Far East religious meditation is generally characterized by the use of repeated mantras, the act of releasing one's negative or harmful thoughts and clearing of one's mind completely.
Mindfulness is the practice of being completely present in what you're doing and aware of your surroundings. It's not about meditation, necessarily, but instead relies on controlled breathing for concentration so that one can stay focused on their experience at any given moment rather than being overwhelmed by other things going around them or into overdrive without realizing it.
Biblical meditation is an entirely different beast than the repetitive mantras commonly seen in practices mentioned above. Christ Himself tells us not to use meaningless words when we pray to Him, and so Christian meditation avoids that practice in their fellowship with God.
Biblical Meditation isn't about "emptying your mind" but rather filling it with God's Word. It is not just mindfulness without instruction from scripture, which could leave us vulnerable to spirits of deceit that would tempt you away from worshiping Him sincerely.
The effectiveness of biblical meditation is not dependent on a certain kind or posture. You can meditate from your bed, while preparing for battle in your daily life or you may do it throughout the day and while you lie in bed. There is no right or wrong place for biblical meditation.
Kneel before the Throne: Exploring Ephesians with Verse Mapping and Bible Study
Christian or biblical meditation is about pondering and giving careful, thoughtful consideration to Scripture.
It is not simply reading or studying the Bible, although of course they are important, too. Studying the Bible can help us to meditate by helping with context of original meaning in verses we read.
Meditation isn't trying to get what we want from God or a deeper sense of ourselves by focusing on our feelings, intuition, and other things. Nor does it mean emptying out everything. We want to fill ourselves with the Spirit and God's precepts, rather than to empty ourselves.
Meditation is an important practice that can help you find peace through Christ, alone. Meditation should not be seen as some mystical, extraordinary thing to get lost on the journey of self-discovery but rather it calls us deeper into ourselves so we may also call upon God and make Him first priority when seeking His will for our lives–which often means emptying out any thoughts or desires other than those coming directly from Him.
Meditation is not some hidden secret to get a deeper level. It's about going deep with God and putting Him first by what He has revealed, while letting go of anything that doesn't line up in our lives as followers of Christ Emptying ourselves leaves room for the devil's ways or wills—we are striving for more of Him and less of self.
What Christian Meditation Is

Mediation, very simply, is contemplating, thinking about, and pondering God, His works, and His Word. In Hebrew, the word for meditation means to mumble to oneself or to murmur. This is speaking to oneself either aloud or silently, in one's heart. It is, however, not a mindless activity or the repeating of a mantra.
So, in a biblical sense, to meditate means to ponder, consider, chew on, ruminate and mull over the Scripture. Christian meditation is full of content and context. It is thoughtful, not thoughtless.
God speaks to us in many ways. Scripture is the book that God uses for teaching and guidance, but He also talks through nature. The Holy Spirit acts as another means by which divine communication occurs – sometimes He'll bring feelings into our hearts just outright knowing things without having any logical explanation behind why such knowledge should exist outside whatever circumstance. This is that still small voice.
Jesus is the Good Shepherd who knows His flock by name. He wants you to know that he can hear your voice and be close, no matter where you are! Meditation helps us listen well so we will always find him near when looking for guidance or answers from God himself
The act of listening to God's word is a fundamental part in Christianity. Through the prophet Isaiah, he asks us for our attention so that we may live.
It is so important to not just hear but also obey when meditating on God's Word.
At its most basic and fundamental level, Christian meditation is simply a loving attentiveness to God. Through the prophet Isaiah, God urges us to ​"Incline your ear, and come to me; listen, so that you may live." Listening is the key.
In Revelation 3:20 we are given the incredible words from Jesus,
These words were originally intended for believers, not unbelievers. Jesus is knocking at the door of your heart! He is longing to eat with you, to fellowship with you. He desires fellowship in the inner sanctuary of your heart.
While Jesus is knocking; Christian meditation opens the door.
The practice of biblical meditation prepares the way.
You may enjoy this brief video on the differences between Eastern meditation and biblical meditation.
The Importance of Biblical Mediation
Meditation is the bridge between knowledge and obedience. How many of us have our minds filled with a broad understanding about God's word, but remain superficial because they don't allow themselves to go deep into their hearts through meditation?
Mediation is a powerful way to connect with the word of Christ and experience His peace, joy & gratitude. Through mediation we are able have an obedient heart as well being filled up by the Holy Spirit!
Meditation plants the truth of God's Word deep into our souls so that we are genuinely changed and enabled to walk in faith and obedience.
Christian meditation helps us to form a more intimate relationship with Christ, so we are not superficial with our faith and giving us the ability to trust Him more fully and more obedient to Him.
The primary reason most Christians plateau in their spiritual growth is for lack of true meditation.
What is Christian meditation, An Easy How-To and 7 Tips for Impactful Meditation
Click To Tweet
Christian Meditation How to
If meditation is so important, how do I do it? Here are a few practical suggestions to help you establish a practice of biblical meditation.
Read verses and passage as opposed to large sections of the Bible (a whole book, for example) to meditate more and have unhurried time for meditation
Pick a verse or passage and meditate on it. Don't just study it but allow it to impact you and your life. Reflect on it, think about, consider it, and repeat the passage in your mind. This way both memorization and true meaning of the passage will take root in your heart.
Write it down in your prayer journal, war binder or simply a sheet of paper, and think about that verse or passage over the course of days or weeks. As they come to you, write down observations, questions, and how God reveals to you that you can apply that Scripture.
You may wish to set aside an hour to or to simply "sit" with the verse or passage and mull over it. It is simply amazing how much we grow spiritually from spending time with one verse or passage of Scripture.
Seven Tips for Impactful Christian Meditation
True Desire – You have to truly desire to seek Him out for a deeper, personal relationship. First of all, you need to truly want to pray, hear His voice, and then meditate on His Word as a form of worship. Start by asking God to give you understanding through the Holy Spirit and His Holy Word.
·2. Set Your Priority. Make biblical meditation a priority in your life as both Daniel and Jesus did. (Daniel 6:10). (Mark 1:35)
Make an appointment with God and make a commitment to carry out His calling in every area of your life. Let the Bible become a guidebook for how you live, so that it may be an influence on others around us as well!
3.Be Determined and Don't be Discouraged.
Resolve to keep going and not skip days or weeks for Christian meditation. Learning this new practice takes time, effort, and regular habit Do not be discouraged; we are all beginners at meditation.
4. Expect that God Will Meet You Where You Are
Whether you are incorporating biblical meditation into your life for the first time or have been practicing it for years, God will be there to receive you and meet you where you are.
He is gracious, good, loving, and responsive to His children. Come to enjoy fellowship with Him, to be with Him, and to enjoy Him.
5. Dedicate a Space Free from Distractions and Noise.
Noise and busyness often sidetrack us from what God has for us. As Christ went to a quiet place to be alone with the Father, we need to do the same.
We need times to reflect, ponder, and seek His fellowship so we can be further instructed and empowered to serve and glorify Him more.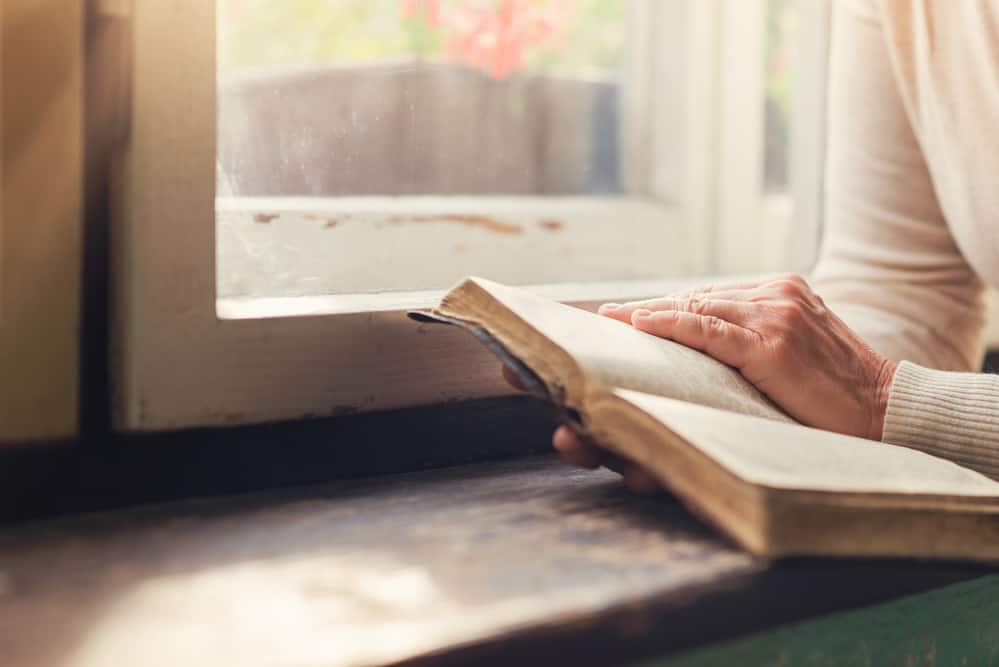 6, Listen for God's to Speak to You Through His Word
Quiet your mind and open your will to the Father to better hear His voice.
7. Remember that Christian Meditation is a Form of Worship and Prayer
Pour out your heart to Him, freely and fully; Pray with confidence and gratitude and worship Him completely.
A few Wonderful Verses to Begin Biblical Meditation
When beginning Christian meditation, it may be confusing to know where to start. Here are some verses that are great choices to begin your biblical meditation practice with:
Joshua 1:8; 1
Samuel 12:23;
Psalms;
Jeremiah 15:16; 29:13;
Hosea 10:12;
Mathew 6:33;
John 15:1-5;
Romans 12;
Philippians 4:8;
Ephesians 4:6; 5:20;
1 Timothy 4:15;
Hebrews 5:12-14; 11:6; 13:15;
James 1:5;
1 Peter 2:2;
1 John 4:10; 19
8 Ways the Discipline of Christian Meditation Changes Us
1.Christian meditation helps to align our thoughts with God's Word.
This helps to develop our character and maturity in Christ
2. Biblical meditation helps us to focus on Scripture.
In Psalm 119:105 we read that God's word is a "light to my path."
God's path, or His will, comes from His Word and both our understand and obedience to His Word.
We must make His Word a priority in our lives, not an afterthought or whenever we have time.
An age-old way to use the Bible as a prayer guide is "meditation scripturarum", translated from Latin meaning "meditating on scripture". Or "Lectio Divina", translated as "reading the Divine" or "praying in Scripture".
With this method, you simply read and pray the scriptures.
The purpose of this is to get more insight from a passage by reflecting prayer.
3.Christian meditation is first and foremost our reflection on Jesus Christ. It is not focusing our own wants and desires. It is also deep contemplation on God, His character, and His Word.
4. Biblical meditation is seeking guidance for our life through God's Word rather than the world or our own sinful nature.
5. Christian meditation meditating on God and learning His character through scripture. Knowing who He is allows us to praise Him more effectively and meaningfully.
6. A sign of spiritual maturity is that one seeks to know God and His will. It is up to us to meditate on His Word and to focus our hearts, minds, and souls on who God is and His character through the leading of the Holy Spirit. When we do obedience and righteousness can flourish.
7. God has commanded us to love and serve others. Christian meditation helps us to align ourselves with His Word and helps us to love others in the way He commands. Through His Word and the help of the Holy Spirit, we are being equipped to meet the emotional, physical, and spiritual needs of one another.
What happens when we do not practice Christian meditation? Simply put, we are making a choice not to grow closer to God. Or, perhaps, we've bought into the perception that meditation is "woo-woo" or "unchristian".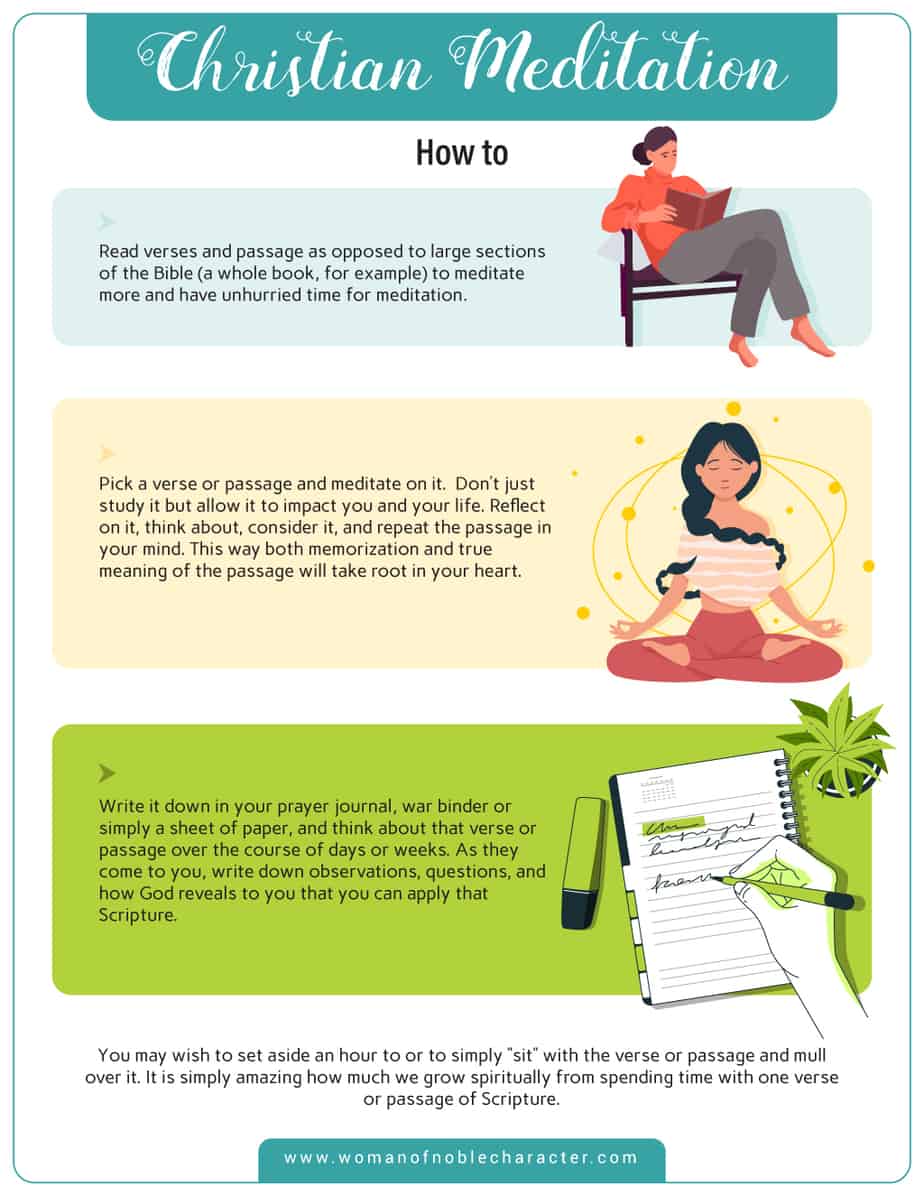 In biblical meditation, the foundation is the Lord. This discipline is not emptying our mind or evoking some eastern religious or cultist view; rather, it is drawing our attention to Christ-to whom He is and what He has done for us.
One of the most common misconceptions about meditation is that it's just another form of Eastern philosophy practice. This couldn't be further from the truth! Biblical meditation is a spiritual discipline, rooted in Scripture, not an exercise in escapism or relaxation. It's one way Christians can turn their heart toward Jesus and focus on God as they grow closer to Him through prayerful reflection. We hope this post has helped you understand what Christian meditation isn't and enjoyed the Christian meditation how-to.
You may also enjoy one of these recommended resources on biblical meditation:
Celebration of Discipline, Special Anniversary Edition: The Path to Spiritual Growth by Richard J. Foster (Fabulous book. Just one chapter on Christian meditation, but so rich in content)
Reclaiming the Lost Art of Biblical Meditation: Find True Peace in Jesus by Robert J. Morgan
I'd love to hear your thoughts on this. Post a comment below.
Because He Lives,

Sue
ESV – "Scripture quotations are from The ESV® Bible (The Holy Bible, English Standard Version®), copyright © 2001 by Crossway, a publishing ministry of Good News Publishers. Used by permission. All rights reserved."