This page/post may contain affiliate links. As an Amazon Associate, as well as an affiliate of other programs, this means if you purchase something using these links, I will receive a commission on qualifying purchases at no cost to you! For more detailed information, please visit our Affiliate Disclaimer page
It seems that it was just a few years' ago that to bring your Bible with you, you needed to buy a teeny-tiny Bible, with hard-to-read print, in mostly abridged versions. Now, with the advent of technology and the normal use of smartphone or even tablets, you can simply download any of a number of Bible apps to your device and have the entire Word of God available.
As you will see below, there are literally dozens of options for you. You can find Bible apps in numerous translations. Many which include tons of Bible study features from maps to commentaries and others with a social aspect to share with other believers. Others even provide options for notetaking and highlighting.
Whether you are lying in bed, waiting for your child at basketball practice or following along at worship service, you can have a Bible app at the ready for you.
With so many to choose from, I've compiled a list with features, pricing, and links for you to choose the best Bible apps for you and your Bible study needs.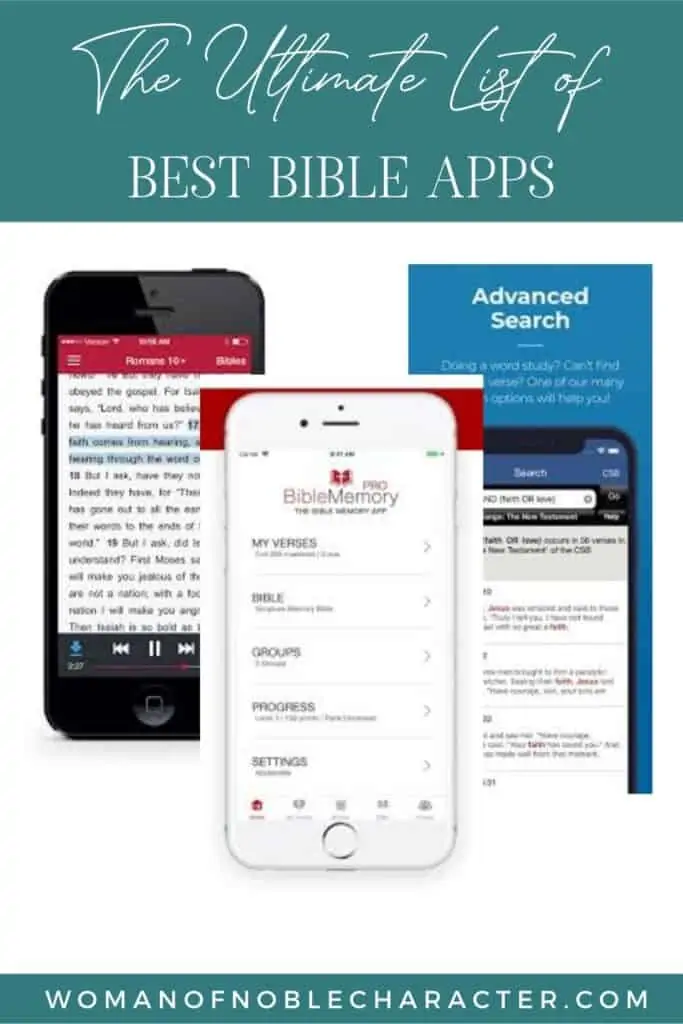 Best Bible Apps
Bible Study Together
Free
Bible Reading, Prayer, and Fellowship
Read the Bible, Pray, and Fellowship with private group members all from one app. The Bible Study Together team has rethought from the ground up what our personal devotional time could be and has now made it a reality. Watch the video below to get a taste of what this app can do.
She Reads Truth
Free and paid versions
3.3 rating on Apple Store
She Reads Truth is an online community of women in the Word of God every day.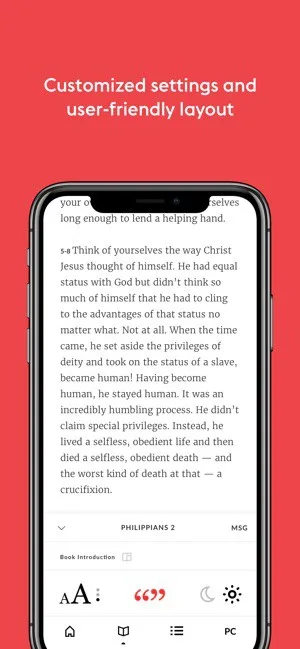 Bible + Devotional app is a beautiful, functional, and accessible Bible-reading tool created to help women from around the world to connect with God's Word and each other, anytime and anywhere. Whether your Truth time comes in the early morning before the world wakes, during a lunch break at your desk, or in the middle of the night with a baby in your arms—the She Reads Truth app brings your quiet (or not so quiet) time to you, right where you are.
The app has some bugs, but if you can get by them, it is a solid Bible app for women and should not be overlooked.
App Features:
– Gorgeous, user-friendly layout and design
– Full-text Bible in multiple translations
– Free and paid Bible-reading plans, with new content added daily & full-access, monthly auto-renewable subscription available
– Ability to highlight, bookmark, share, and take notes as you read
– User accounts allow you to customize your experience and keep your notes and highlights safe
– Real-time commenting that syncs with the She Reads Truth they're site
– Beautiful, shareable images featuring content from the daily readings
– Free, downloadable lock screens for your phone (an excellent tool for Scripture memorization!)
– Customizable notifications to remind you to read Truth at your ideal time of day
– Free "Bible in A Year" reading plan that tracks your progress as you go
– Bible search function
– Settings for font size, preferred Bible translation, red letter function, and nighttime display
YOUVERSION
Free
4.9 rating on Apple Store
Already installed on over 460 million unique devices all over the world, the Bible App offers a free Bible experience for smartphones, tablets, and online at Bible.com.
It's hard to stay centered on God & His Word. That's why the free YouVersion Bible App gives you tools to seek God's heart daily: listen to audio Bibles, create Prayers, study with Friends, explore 2,000+ Bible versions, and much more. Download now!
On over 400 million devices around the world, people are reading, listening to, watching, and sharing the free YouVersion Bible App. 2,000+ Bible versions, in 1,300+ languages. Thousands of Reading Plans in 65+ languages. Add your own Prayers, Verse Images, Highlights, Bookmarks, and public or private Notes.
Customize your Bible App experience. Access everything when connected or download specific versions to use offline.
Explore the Bible with your closest friends. Share honest conversations about Scripture with a trusted community. Grow together and share what you discover.
* Use Prayer cards to keep track of your Prayers in the Bible App
* Easily organize Prayer lists
* Make your Prayers private or share with Friends
* Celebrate anstheyred Prayer requests with your Bible App Friends
* Easily select from thousands of Bible versions, in 1,300+ languages
* Over 60 languages to choose from for your Bible App interface
* Choose from popular versions like the NIV, NASB, ESV, NKJV, NLT, KJV, The Message, and more.
* Offline Bibles: Read without network access (available for select versions)
* Listen to audio Bibles and enjoy skip, playback speed, and timer controls. (Audio Bibles available for select versions and are not downloadable.)
* Center your friendships around Scripture in the Bible App
* See a stream of Bible activity that shows what you and your Friends are noting, bookmarking, and highlighting
* Comment to ask questions and enjoy meaningful conversations in the app as you study God's Word together
* Thousands of Plans: Devotionals and Plans that lead you through specific topics, portions of the Bible, or the entire Bible in a year (both Bible in One Year and One Year® Bible)
* Watch and share video clips from The Bible Project, the "JESUS" film, "The Lumo Project," and more
* Search the Bible using keywords
* Themes let you select a color palette for your entire Bible App experience
* Verse Images turn Bible verses into shareable art
* Highlight with custom colors—just like a paper Bible
* Bookmark passages: Share, memorize, or keep track of your favorites
* Share verses with friends using social networks, email, or SMS/text
* Add Notes: Keep them private so only you can see them, or make them public to share with friends
* Cloud syncing: With a free YouVersion account, see all your Notes, Highlights, Bookmarks, and Reading Plans on any supported device
* Easy Reading: Adjust settings like fonts, spacing, and text size, and even read in Dark Mode
Tecarta Bible
Free / Paid version available
Rated 4.9 on both Apple Store and Google Play Store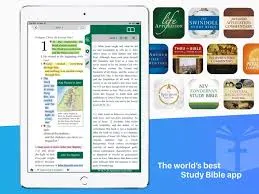 Join the millions of users who love Tecarta Bible, the world's best Study Bible app! It has never been easier to grow in your understanding of God's Word. Begin your Tecarta Bible experience with your choice of over 30 Bible Translations. Choose your favorite or compare multiple translations to gain a fuller understanding of the Bible. Want to go deeper? Add on to your library your choice of Study Bibles, Commentaries, and Devotionals, all of which include free 7 day trials!
Tecarta Bible is simple, speedy, and fun to use – the best app to explore, discover and grow in God's Word. Easily search for a word or phrase in the Bible, access Study Bibles or Commentary notes, bookmark and highlight Bible verses or take notes and organize them in folders. Now you can have a complete library of Bible resources – all in your back pocket.
Tecarta Bible helps you stay connected to God with Verse-of-the-Day and Daily Devotionals, which you can easily share with family and friends via Facebook, iMessage, Twitter, and Email.
• NIV, KJV, NLT, ESV, MSG, CSB, NKJV, NASB and VOICE are just a few of the translations in the app to broaden your understanding of the Scriptures
• Study Bibles such as the bestselling Life Application Study Bible, NIV Study Bible, ESV Study Bible, the new Zondervan Study Bible, and recent favorites like the MacArthur Study Bible and Swindoll Study Bible offer a variety of resources such as study notes, book introductions, maps, charts, character profiles, reading plans, concordances, and more!
• Thru the Bible Commentary, The MacArthur Bible Commentary, Jon Ctheirson's Application Commentary, The Believer's Bible Commentary, The Preacher's Commentary and The Geneva Study Notes are just some of the top commentaries to help readers go deeper into the background, context and meaning of scripture
• Easily explore Strong's Concordances and built-in cross-references for all translations that support them
• Flip back and forth from your Bible to note-taking during lessons with one touch and not miss a thing
• Split-screen capability for parallel translations or for seeing Bible study with personal or study notes at the same time
• Select, copy, and paste multiple verses easily and quickly
• Synchronize all your notes, bookmarks, margin notes and highlights across all iPhone, iPad, and iPod Touch devices
• Bookmark your favorite passages for quick future reference or make your own personal studies
• Potheyrful folder system allows users to organize notes and bookmarks
• Inspire your friends and family by easily sharing Scripture via Facebook, Twitter, and iMessage
• Full-text search by Old Testament, New Testament or current book allows users to quickly find words and study topics
• Adjustable font sizes, light, and dark modes
• All the content is fully downloadable for reading on-the-go or in new places without an internet connection
Bible+1
Free with option in-app purchases
Rated 4.7 in Apple Store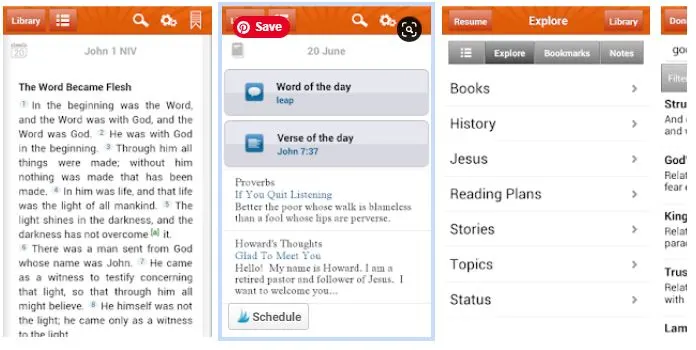 Free Bible Reader with fully formatted text and multiple versions and languages available. Navigate the Bible by book, topic, passage, search and more. Download the most popular Bible versions to use even when the Internet is unavailable.
Features:
* Get the most popular Bible
* Download Bibles for offline use
* Write and Title notes and highlight Bible verses in multiple colors
* Enjoy devotional reading plans
* See words of Jesus in red (most versions)
* Explore the Bible by topics, stories and more
* Save bookmarks
* Share verses and links by email, Facebook, and twitter
* Sort notes and highlights
* Keep track of your history
* Select Multiple Verses
* Fast and easy with most relevant results first
* Search the Bible by topic, passage, or phrase
Scourby YouBible
$19.99
4.0 Rating in Apple Store
The Scourby Bible App was Ranked No 1 by Theology Degrees, 700 Club News, American Bible News, and others. The audio of the entire Bible is downloaded directly to the device enabling the App to work without an internet connection.
You Bible App is a Bimodal presentation with Text and audio Synced together. Thus, providing for a better understanding, comprehension, and remembrance, and majestically narrated by Alexander Scourby, who The Chicago Tribune wrote as having the greatest voice ever recorded.
The Scourby Bible App is the perfect Bible companion with many functional friendly user features not found in other apps. The Playlist feature is one of a kind, enabling users to create custom Playlist of their favorite Bible Verses. Users can and then play them back with text and audio synced together.
Bible App data such as Playlists, notes, bookmarks, etc. will not be saved, though.
* 70 plus hours of Audio.
* Book, Chapter and verse Search and Word Search in seconds.
* Text and Audio synced together with action verse highlighted.
* Bible Reading Plan with 12, 9, 6, or 3-month settings.
* Create custom Playlist of Favorite Bible Verses.
* Share Bible Verses with Friends, via Email, Text, Twitter, or Facebook.
* Sleep Timer for 10, 20, 30. 60, 120. 240, and 480 minutes.
* Notes and Bookmarks.
* History page tracks Bible verse readings.
* Change Font Size in App settings, or on the fly in Bible Reader.
* Font size selection in App settings small, medium, larger, and extra-large.
* Videos, Maps and More
eBible
Free with paid version
Rated 4.5 on Apple Store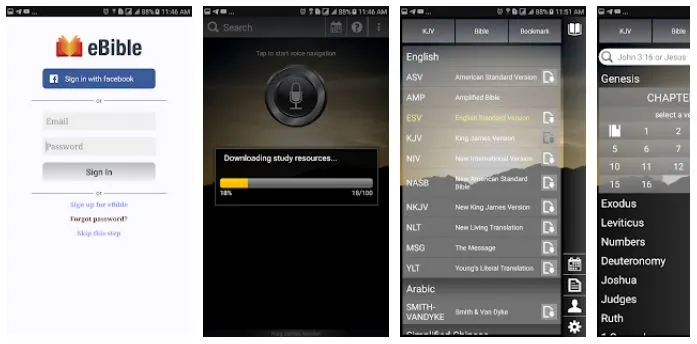 Your own personal and customizable Bible is available at your finger with eBible. Fast, user-friendly, and packed with features, eBible is a free download that allows you to personalize your Bible experience while joining in the discussion of Christian faith with their Questions & Answers platform. eBible Helps You Engage the Bible More

Features:
Beautifully rendered page-flip simulates real book experience
Personal journal notes and search them by keywords
Robust highlight capabilities, like in a real book
Lightning fast navigation
Reading plans and devotionals to help you stay engaged
Sync to the cloud
40+ Bible translations including New International Version (NIV), New King James Version (NKJV), English Standard Version (ESV), New Living Translation (NLT), The Message (MSG), Amplified (AMP), New American Standard Bible (NASB), King James Version (KJV) and more
Questions and Answers:
Now includes over 10,000 answers to questions on the Bible, God, and Christianity. See the most commonly asked questions next to verses you're reading. Read answers from their community. Join in the conversation with your own questions and answers!
Net Bible
Free
4.1 rating on Apple Store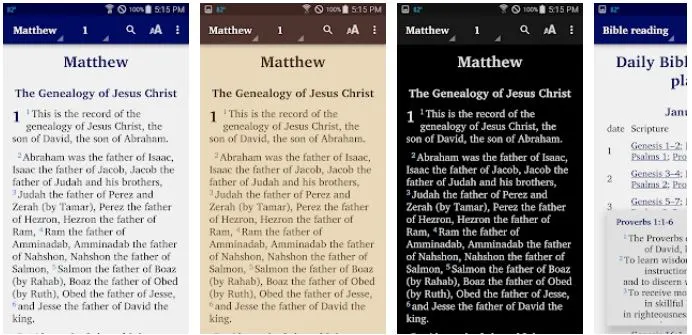 Features:
Lumina allows you to experience the NET Bible with all its notes for free and in a visually friendly and intuitive way.
Read the New English Translation (NET) Bible like the book that it is, by swiping through its pages without worrying about chapter boundaries.
Tap the current passage title to change passages.
Learn and grow by reading the 58,506 translators' notes and the associated Bible cross references in popups.
Highlight/underline passages of interest.
Bookmark your favorite passages by tapping a verse number.
Take notes that are tied to verses by tapping a verse number.
Search the Bible using their fuzzy search that doesn't require you to know all the words or even the translation it came from.
Share verses via Twitter, Facebook, Email, and Messaging by tapping a verse number.
Choose books by using a grid, canonical list, or alphabetical list of books. Force Touch a Book/Chapter to go directly to it.
Change the font and size of the text.
The NET Bible is a modern of the Bible with 58,506 translators' notes! It was completed by more than 25 scholars – experts in the original biblical languages – who worked directly from the best currently available Hebrew, Aramaic, and Greek texts.
KJV Bible: King James Version
Free with paid version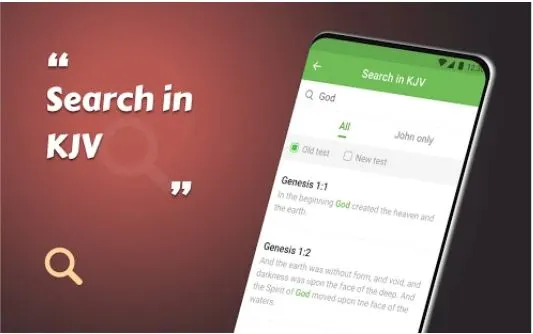 Features:
Ability to save favorite chapters or verses.
Get daily bible reading and track the read chapters.
Ease and simple to use.
Always provide unread chapters for notification
Bible offline – Read the Bible even without network access.
Explore specific words in the Bible
Easily locate Book/Chapter/Verse
This is a free Lite app KJV Bible.
ESV Bible
Free
4.1 rating in Apple Store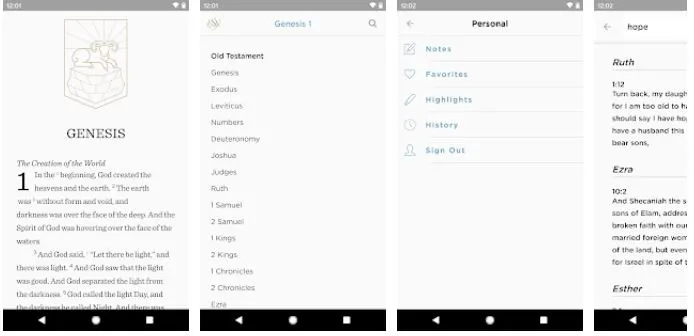 The ESV Bible app was designed to be the most beautiful and intuitive Bible app available. The app includes free resources such as interactive reading plans, audio streaming, and free access to the full ESV Global Study Bible.
• Read. Dig into the English Standard Version via an elegant interface designed specifically for mobile devices. Quick access to cross-references, split-screen reading, and a distraction-free reader's mode make it easy to engage with God's Word on a deeper level.
• Free Reading Plans. Make Scripture reading a habit with 60+ Bible reading plans featuring content from well-known Bible teachers such as Jen Wilkin, Paul Tripp, Charles Spurgeon, Nancy Guthrie, Kevin DeYoung, Gloria Furman, and more. New reading plans are added every month.
• Study. Read the ESV Global Study Bible alongside the biblical text for free. Subscribe to one of their paid plans at ESV.org to unlock additional study resources, like the ESV Study Bible, ESV Archaeology Study Bible, Preaching the Word commentary series, and more.
• Audio. Stream a free audio reading of any passage (internet connection required).
• Search. Search the Bible by reference, keyword, or phrase with lightning speed.
• Write. Capture your ideas and reflections while listening to a sermon or during Bible study in personal notes attached to specific passages.
• Highlight. Highlight and bookmark favorite verses with just two taps.
• Sync. Sync your highlighted verses, personal notes, and bookmarks with ESV.org—giving you access to all of your personal content from any device.
• Share. Share verses with friends and family via text message, email, Facebook, and Twitter.
Dwell Audio Bible
7 day free trial then various paid plans available
4.9 Rating in Apple Store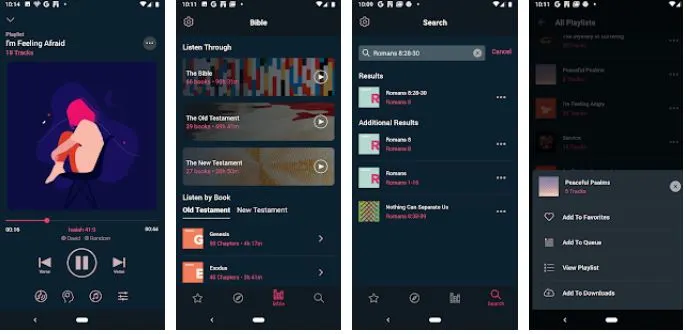 If you're like many, you're probably finding new and enriching passages of scripture all the time that deepen your connection with God. When you discover new passages like these, Dwell makes it simple to bookmark them as favorites so that you can easily return to them day after day. Dwell also gives you the tools to not only listen to scripture, but to memorize and meditate on it too.
Dwell also has been called "the Spotify of Scripture" because of how easy (and delightful!) it is to explore the Bible. Browse popular Bible verses or curated playlists that include select verses by theme. Use their Listening Plans to help you cultivate a habit of seeking God in Scripture every day. Or take the traditional approach: pick your favorite book and dive in!
Access all of the Bible online or offline by signing up for a free 7-day trial. Download Dwell now and transform the way you experience scripture.
• Enjoy 6 distinct voice recordings of the Bible
• Choose ESV Bible, NIV Bible, or KJV Bible
• Search and listen to scripture with ease
• Get reminders to listen to the Daily Bible Verse
• Download and listen to scripture offline
• Repeat and reflect on scripture at any time
• Layer intimate background music into your scripture listening experience
• Experience a clean, intuitive UI design, showcasing a dark color scheme to help you focus on what matters
• 75+ Listening Plans, e.g., The Bible in a Year, The Parables of Jesus, etc., that guide you through books or topics one day at a time
• 260+ curated Passages of the most popular Bible verses – a wonderful place to begin if you're unsure of where to start
• 60+ Playlists that help you travel through scripture by theme
Bible.is
Free
4.8 rating in Apple Store
God's Word in Your language. Hear, watch, read, and share the Bible on your mobile device anytime, anywhere for free through the revamped Bible.is app. Discover a brand-new way to interact with God's pure Word and give others free access to the Good News. Features:
– Freely access the Bible in 1,300+ languages. New languages are added monthly.
– Listen to beautifully dramatized Scripture at home, at work, or in the car.
– Easily create custom Plans and Playlists for personal, family, or church Bible study.
– Discover and follow Plans made by others to engage the Bible.
– Search Bible passages by language or country.
– Navigate in your language—Bible.is detects the language your phone uses and automatically adjusts its text, or you can select your preferred language.
– Look up keywords, book names, or specific verses.
– Bookmark, highlight, and add notes for Scripture memorization and inspiration.
– See the ministry of Jesus come to life in Gospel Films and the JESUS film.
– Share any Bible verse via social media or email with one tap.
One Bible – Study Faith Daily
Free
4.8 rating on Apple Store
Experience the fast, friendly, free Bible app used by millions. Easy enough for a Bible newbie yet packed with enough features for the serious student. This Bible app meets you right where you are. Navigating the Bible is simple using books, topics, stories, and search. Highlight Bible verses in multiple colors, make notes, save bookmarks, and share verses with friends. Dozens of the most popular versions are available in Bible +1 including NIV, NASB, ESV, NKJV, NLT, KJV, The Message and many more.

Download this free Bible app today and you can:

• Get the most popular Bible versions and download them for offline use!
• View fully formatted text!
• Explore the Bible by devotional reading plans!
• Navigate quickly and easily by filtering results and showing most relevant results first!
• Enjoy self-study with the help of multiple color highlighting, writing and titling notes, sorting notes and
highlights, saving bookmarks!
• See the words of Jesus in red (most versions)
• Select Multiple Verses
• Explore the Bible by topics, stories and more
• Backup and Sync notes, highlights, and bookmarks
• Disable auto-lock
• Keep track of your history
• Sync purchases with your free just1word account
• Read publisher footnotes
• Share verses and links by email, Facebook and twitter
• Take advantage of external display support
• Search with just one word in the just 1 word app
Best Bible Apps for Bible Study
Bible App by Olive Tree
Free plus paid version
4.8 rating on Apple Store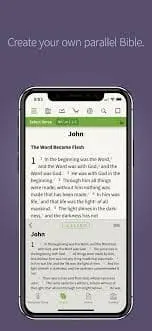 Bible by Olive Tree equips you with easy-to-use Bible study tools so you can stop skimming Scripture and get answers—for free.
God has been speaking to His people, through His people, for thousands of years… and that takes some research to understand! That is why they provide resources (free & paid) to help you go deeper into God's Word.
You don't need Wi-Fi to access your Bible, audio Bible, or any other Bible study tools. If your phone is working, so is your offline Bible app.
Audio Bible
Reading plans
Devotionals
Bible maps
Study Bibles
Commentaries
eBooks and audiobooks
Greek and Hebrew tools
And much more
Logos Bible Study App
Free – Offers In-App Purchases
Rated 4.8 on Apple Store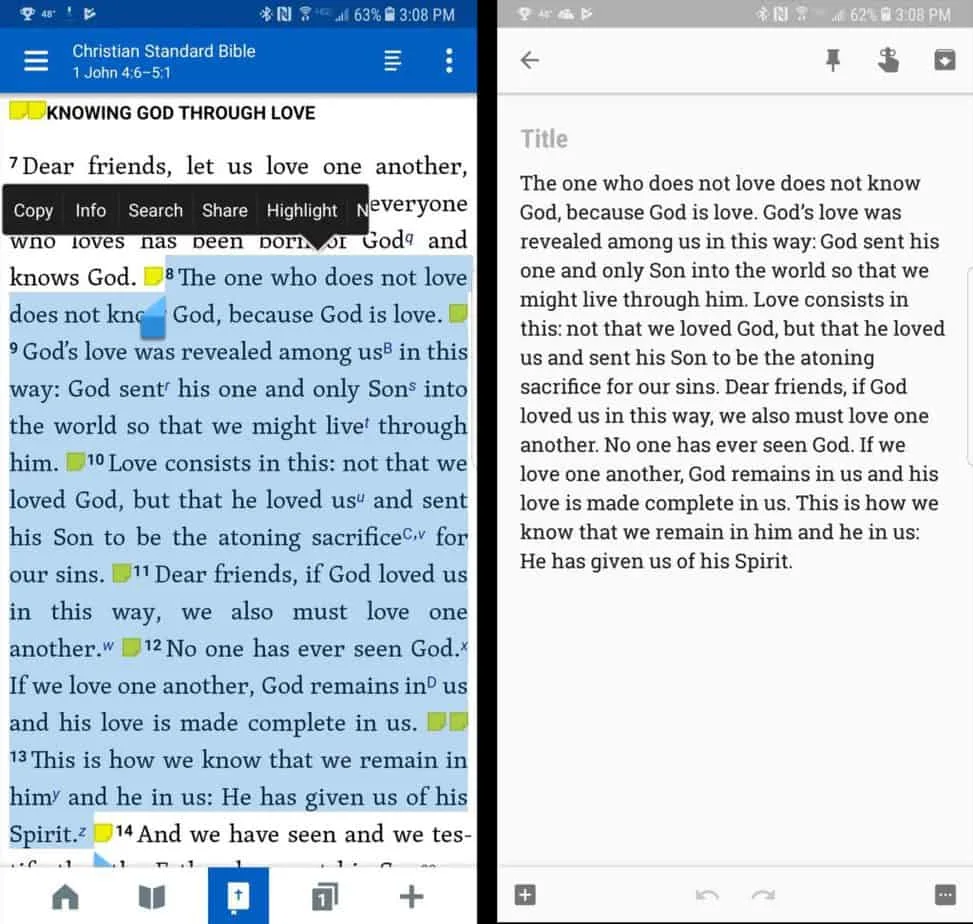 Read the Bible and make use of commentaries and reading plans. You can save any book or Bible you own for offline use. Get free resources when you download the app and sign in, and do better Bible study with exclusive Logos Bible study tools.
Organize and schedule your reading in seconds. Create a list of books in your library that you want to read, then start a reading plan when you're ready to dig in. Just choose the book, pick a time frame, and the plan is in place. It's that simple.
When you have to squeeze sermon prep between that hospital visit and the deacon meeting, there's no time to waste. Just search for your sermon passage or topic to find curated overviews. Or dive deep into trusted sermon resources. Not only are we bringing Factbook to mobile for the first time, Factbook for Logos 9 has more data than ever before.
Use Reference Scanner to snap a picture of a document and look up many verses at once, then save those verses as a Passage List.
Easier to Find What You're Looking For
Access powerful search features from any book or resource. Quickly navigate to to any verse in the Bible, or search your library to go deeper.
Read your favorite Bible translations: we have a variety of options including the NIV, ESV, NASB, NKJV, and many more.
TOP FEATURES:
• SAVED LAYOUTS (Logos 8 only) – Save your favorite study layouts so you can return to them later with a few taps.
• TABBED BROWSING – Open as many resources or Bibles as you want side by side.
• REFERENCE SCANNER – Take a picture of a church bulletin or handout using Reference Scanner and the app will open your preferred Bible version to all the verse references.
• LIBRARY – Downloading this app gives you access to up to 95 free resources to kick off your Bible study. In addition, all your Logos books will sync to your device so you can read them on the go.
• NOTES – Attach your thoughts, comments, and questions to any Bible verse or book. The Notes feature has been updated for Logos 9 customers.
• HIGHLIGHTING – Mark the words that matter with fully customizable color and text options and return to them at any time.
• BIBLE WORD STUDY – Learn more about any word in the Bible by examining dictionaries, lexicons, and cross-references.
• PASSAGE GUIDE – Get a detailed, verse-specific report including Bible commentaries, cross-references, literary typing, and media resources.
• TEXT COMPARISON – Compare any verse across multiple translations with visual and percentage indicators of difference.
• SPLIT SCREEN – Delve into any secondary resource side by side with your preferred translation.
• SEARCH – Find every mention of a word or phrase in every resource in your library.
• READING PLANS – Get into daily reading with several Bible reading plans to choose from.
• AUDIO BOOKS – Listen to the Bible wherever you are.
Blue Letter Bible
Free
Rated 4.8 on Apple Store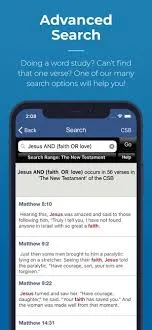 Dig deep into God's Word with over 15 available Bibles, text commentaries, Hebrew / Greek lexicon, interlinear, dictionaries, word searches, and more. Personalize your study with highlighting, tagging favorite verses, and parallel Bible views. One of the best Bible apps for Bible study.
POWERFUL BIBLE STUDY TOOLS
• Study the Hebrew & Greek with our original language lexicon
• Perform word study searches using the many available dictionaries and encyclopedias
• Use the Treasury of Scripture Knowledge for an in-depth study
• Over 8,000 text commentaries by over 40 different authors
PERSONALIZED BIBLE STUDY
• Powerful note taking feature lets take notes while organizing them into notebooks
• Tag your favorite verses and collect them into custom folders
• Highlight verses in unlimited customized colors
• Show / hide footnote and verse markers
• Show / hide words of Christ in red
• Adjustable font size and line height for easier reading
• Side by side, parallel Bibles
Bible Gateway
Free with in-app purchases available
Rated 4.5 in Apple Store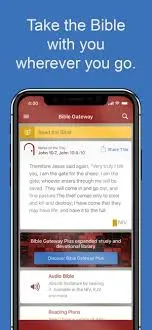 The Bible Gateway App is the official and free Bible reading, listening, and learning experience from BibleGateway.com.
The Bible Gateway App makes it easy to read, hear, study, and understand the Bible. With the Bible Gateway App, you can:
• Read more than 90 different Bible translations, including the NIV, KJV, ESV, NKJV, NLT, NASB, and The Message.
• Listen to over 20 audio Bibles, including English, Spanish, Arabic, Thai, and other translations.
• Quickly and easily search the Bible for a verse, passage, or keyword.
• Enjoy a daily Bible Verse of the Day in the translation of your choice.
• Follow one of many different Bible reading plans to journey through God's Word.
• Learn more about any Bible passage with a library of trustworthy Bible commentaries and other references.
• Take personal notes, highlight Bible text, and bookmark your favorite verses.
• Share Bible verses with your friends and family on Facebook and Twitter.
• Upgrade to the ultimate Bible learning experience with a free 30-day trial of Bible Gateway Plus. Plus members enjoy access to their expanded study library in the App.
Faithlife Bible App
Free with in-app purchases available
Rate 4.8 on Apple Store
The Faithlife Study Bible invites you to understand the Bible more fully—to feed your curiosity about God and His work in the world.
In the Faithlife Study Bible, rich commentary on every biblical passage illuminates Scripture, helping you engage with God's Word. Discover intriguing insights in robust study notes based on the original languages of the Bible. Visually stunning graphics enrich your study of the Bible, bringing the ancient world to life.
Rather than tell you what to think, the Faithlife Study Bible helps you learn how to think about a text and work toward deeper understanding. When tradition and scholarship present diverging views on a passage, the notes explain the interpretive options, encouraging you to reach your own conclusions.
The Faithlife Study Bible is translation independent, so it's designed to work with multiple English translations. For example, the insights you receive from the Faithlife Study Bible using the NIV will be just as relevant for a study partner who uses the NKJV.
Immerse yourself in the world's most advanced digital study Bible—the Faithlife Study Bible.
* Compatibility with many popular Bible translations, including NIV, ESV, NKJV, NASB, and more (In-app purchase required for some translations)
* 3 layers of study notes, promoting deep exploration of the text
* Lexham Bible Dictionary, the most advanced Bible dictionary (7,000+ articles)
* Lexham English Bible, a clear, modern translation of the Bible
* Connect the Testaments, a 365-day devotional and reading plan
* Over 400 photos, videos, and infographics
The Faithlife Study Bible app unites the Faithlife community and your personal study. Explore the depth of the Bible with friends, family, your church, or your school. Share discoveries, inspiring quotes, encouraging verses, and so much more with your Faithlife community.
Sermons
Sermon Audio
Free
Rated 4.5 on Apple Store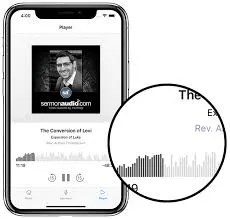 Allows you to elegantly browse and search through the world's largest library of free MP3 sermons from thousands of different speakers and stream or download immediately on your iPhone or iPod Touch!
In addition to finding good sermons, you can find faithful churches in your area or while away from home using our handy "Local Church Finder" by typing in your ZIP code or partial city name.
Summary of features include:
– Browse, search, and stream audio sermons!
– Browse, search, and stream video sermons!
– Browse, search, and read PDF transcripts!
– Bookmark your favorite churches and sermons!
– Browse through the daily featured sermon.
– Browse through all newest sermon additions.
– Churches by name, location, denomination.
– Local Church Finder. Find the nearest church!
– Browse or search by the speaker name.
– Browse through our recommended staff picks.
– Browse member-recommended sermon picks.
– By topic: Family, Marriage, Contentment..
– By category: Audio Books, Weddings, Funerals..
– Browse sermons by foreign language.
– Online Hymnal. Browse or search for a hymn!
– Read Spurgeon's Morning & Evening devotional.
– Download sermons for offline listening.
– MyChurch 1-click access to home church.
– Maps offers interactive view of churches.
– Native multi-tasking + background playback!
– Video streaming and downloading support!
– Live video webcasting w/ multi-bitrate!
– For broadcasters: Create, upload, edit, and delete sermons right from your phone!
– Certain features available from the Apple Watch.
Bonus Bible Apps
The Bible Memory Ap‪p
Free with optional upgrade to PRO
5.0 Rating in Apple Store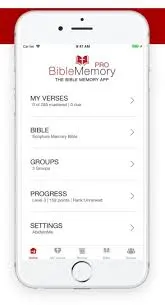 The Bible Memory App is the ONLY complete, all-inclusive Bible memory system that equips you to easily MEMORIZE, ORGANIZE, & REVIEW verses on your own, customizable review schedule. You can even memorize & review verses while READING your Bible, all in one app! (*In-app purchase required for the Bible reader.)
The Bible Memory App is also the only Bible memory system you can access across all mobile devices & online, at BibleMemory.com. Your progress stays in sync between all of your devices, so you can memorize anytime, anywhere. Even without the Internet!
MEMORIZE Bible verses fast by actively engaging 3 separate cognitive areas: kinesthetic (touch), visual, and auditory memory.
• Kinesthetic: Type the first letter of each word in a verse to quickly memorize it in a proven, 3-step memorization process, Type It—Memorize It—Master It
• Visual: Draw Pictures & use Flash Cards (*PRO features). Animated Word Emphasis feature accentuates each word to ingrain it into your memory.
• Auditory: Record verse audio & playback for hands-free review (*PRO feature)
Create & ORGANIZE your personal Verse Library.
• Import verses from ANY of the following 10+ translations from the Internet: Amplified, ESV, HCSB, KJV, NKJV, NASB, NIV, NIV84, NLT, The Message, & in Spanish with Reina-Valera 1960.
• Enter verses manually in ANY version.
• Choose Bible verses by topic from 57 verse collections in our Verse Library.
• Create & name your own verse collections with verses you choose yourself.
• Join one of over 9,000 Bible memory groups to memorize verses together.
• Start your own Bible memory group. It's easy to invite others via text message, email, Facebook, & Twitter.
• Their Smart Review System reminds you to review your verses on an automated schedule.
• You can also customize your review schedule for any verse to review it on your own schedule (*PRO feature).
• Receive optional emails &/or mobile Review Notifications to review verses at the time of your choice.
• Read the Bible & memorize verses, all in one app!
• Available in ESV, NIV, NASB, CSB & KJV
• See your memory verses underlined and color coded by review status in the Bible.
• Search for keywords across multiple translations (*includes all purchased translations).
• Inline cross-reference links make it easy to explore related passages (ESV, CSB & NASB).
More:
• The Bible Memory App will guide you through the 3-step memorization process, Type It—Memorize It—Master It.
• Once a verse is memorized, you can easily review it by typing, using Flash Cards (*PRO), or with Audio playback (*PRO).
• Save time. Only type the first letter of each word when using the app. (You can also type verses out completely on BibleMemory.com.)
• Type without looking. Modified key zones give you credit for hitting any key adjacent to the correct letter.
• Heat Maps automatically highlight trouble spots in your verses (*PRO feature).
• Earn Badges & Advance in Rank with other members.
• Track Your Progress with history charts (*PRO feature).
• Easily share verses with friends via text message, email, Facebook, & Twitter.
• Multi-User & Family Friendly. Easily use multiple accounts on the same device.
About The Bible Memory App's Audio Bible Verse Recorder (*PRO feature):
• Record yourself reading your verses.
• Play back verses individually or by collection in a continuous loop.
• Review hands-free, anytime, anywhere!
• Select background music from your device & independently adjust the volume.
• Turn off your screen & your recordings can continue to play.
• Recordings sync between all of your mobile devices.
• TIP: Speak along with your recordings for an extra retention boost.
Fighter Verses
2.99 plus optional in-app purchases
Rated 4.7 in Apple Store


The Fighter Verses Bible memory system was created to help believers persevere in the fight of faith by arming them with God's Word. Designed for children through adults, this system allows individuals, groups, or entire churches to memorize and review at their own pace.
The Fighter Verses application includes the following features:
• Over 1000 verses preloaded – two complete five-year collections of verses.
• Add ANY VERSE you want using "My Verses" and organize them using topics, tags, and categories. Add verses in ESV instantly; easily copy/paste other translations from BibleGateway.com.
• ELEVEN Bible translations – ESV, NIV 2011 (additional cost), NASB, HCSB, CSB®, KJV, NKJV (additional cost), LBLA (Spanish), RVR60 (Spanish, additional cost), SG21 (French), LB2017 (German, additional cost).
• Six unique QUIZZES (with one additional Reference Matching Quiz included in the Review section):
— Quick Blanks Quiz – recite the verse in your head and tap to reveal one word at a time
— Recite Aloud Quiz – allows you to record yourself reciting the verse and then compare it with the text
— Typing Quiz – type in the missing words
— Type First Letter Quiz – a faster version of the typing quiz
— Word Bank Quiz – select the missing word from a word bank
— Trivia Quiz – multiple choice trivia questions (ESV only)
• REVIEW function presents memorized verses at customizable graduated intervals (daily, weekly, monthly or biannually) for long-term retention.
• FOUNDATION VERSES collection, which are verses for young children. This is an amazing tool to help children memorize; each verse has a picture (now in COLOR) to help children identify the verse.
• CURRICULUM VERSES are available as an in-app purchase for our Kindergarten through 6th grade Sunday School curricula.
• SONGS to help you learn the verses through music (ESV only)
• Display verses on the LOCK SCREEN or a WIDGET so the verse is front of you every time you use your phone / tablet.
• BLOG commentary from fighterverses.com each week that is directly related to the current verse in the schedule.
• Spoken verse AUDIO (ESV is pre-recorded, other translations can be recorded by the user)
• TOPICAL index for topical memory
• Read whole CHAPTER
• Read Bible COMMENTARY
• SOCIAL integration & sharing (Facebook, Twitter, SMS, Email)
This app works on iPhone, iPad, and iPod Touch. All verses are available for offline viewing.
The verses are provided in ELEVEN Bible translations
Looking for best Alexa apps for Christians, too? See this post.
Which of the Bible apps do you have? Do you like it? Which of the best Bible apps are you going to try? Let me know in the comments.
Because He Lives,

Sue