This page/post may contain affiliate links. As an Amazon Associate, as well as an affiliate of other programs, this means if you purchase something using these links, I will receive a commission on qualifying purchases at no cost to you! For more detailed information, please visit our Affiliate Disclaimer page
The Parable of the Rich Man is not just for the wealthy – its timeless wisdom applies to Christians of all incomes. The classic story, also known as the Parable of the Rich Fool, teaches us that money alone doesn't fulfill our happiness or security.
Instead, Christ's story of the rich man encourages us to put God first and have faith that He will bless us with His mercy and abundance. Ultimately, this parable reminds us that life is fleeting and material wealth is of limited value.
The timeless lesson of the Parable of the Rich Fool applies to all, regardless of riches. As Jesus speaks of a man hoarding wealth for himself, it's a reminder to Christians everywhere of the importance of keeping God at the center of their lives.
Money, while a necessary tool, is not our greatest treasure. When we love money more than God, it can lead to spiritual disconnection. So remember, this parable is for us all; don't assume it's not for you!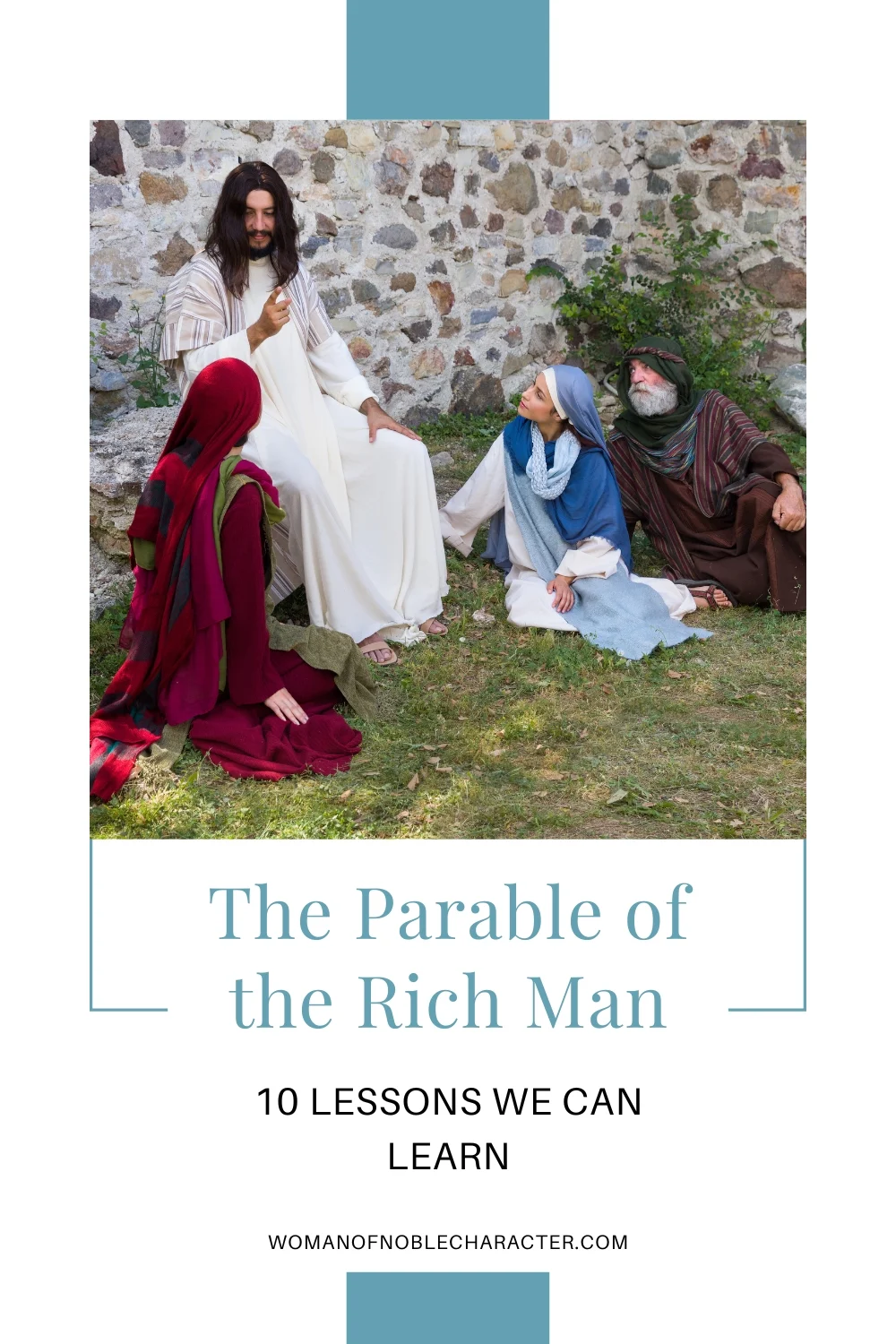 What is the parable of the rich man?
Luke 12:16-21 gives us insight into Jesus' teaching of the parable of the rich man. According to this passage, Jesus warns us that we should not be consumed by the accumulation of wealth or the abundance of possessions. Instead, we should focus our attention on living for the Kingdom of Heaven and serving God with the resources we have been given.
He goes on to declare that it is only God who has the power to give us life and security. Therefore, we should be thankful for our blessings and be content with what we have, trusting that God will take care of us. So let us embrace Luke 12:16-21 and cling to the faith that Jesus has shown us so that we can live a life of joy and abundance. The parables of Jesus have lessons for all of us to heed.
There are at least two interesting facts about this parable:
The parable of the rich fool found only in the gospel of Luke 12, is unique among Jesus' parables in that God plays an active role in the story. Reading the entire chapter reveals the importance of this parable within the larger teachings of Christ to Christians.
If you read the whole chapter of Luke 12, you'll see that the parable of the rich fool is part of the greater teachings of Christ.
When a multitude of people came together to follow Jesus, they began to learn His timeless teachings. It was from this collective gathering that the Bible's foundational principles were born, offering insight and guidance to those who choose to embrace them.
For Christians, the teachings of Jesus offer a path to live a life of faith and obedience that brings blessing and joy.
In Luke 12:1-3, the Messiah talks about the danger of hypocrisy.
The form you have selected does not exist.
In Luke 12:4-7, Yahshua talks about fear of God.
In Luke 12:8-12, we read about confessing Jesus before men and not denying Him.
Then in Luke 12:22-34, we read about Christ's teaching about worrying.
The Parable of the Rich Man teaches a cautionary lesson about greed, not just great wealth. In the parable, the man's land produces an abundance of crops beyond what he can store, so he decides to tear down his barns and build bigger ones to store all the surplus.
Unfortunately for him, God intervenes that same night and calls him a fool, taking his life and rendering all his selfish endeavors fruitless. This parable serves as a warning to Christians: guard against greed, and practice generosity and stewardship of what God has provided.
Meaning of the Parable of the Rich Man
The Parable of the Rich Man has a simple yet powerful message for Christians: fixating on wealth without considering God or our fellow humans, will lead to accountability with God. Jesus' parables can often pose a challenge to interpret, but this one is clear: when we place our focus on the accumulation of possessions, we risk losing our real riches.
The Parable of the Rich Fool is commonly misunderstood as God expecting us to live in poverty. In reality, God wants us to put our trust in Him, the will of God, and know that His provision will be enough. We must recognize the difference between having basic needs met and greedily hoarding money. As Christians, we ought to seek our contentment in God, not in the accumulation of wealth.
Reflection of the Parable of the Rich Man
Are you feeling like you're being continually pulled away from God by the temptations of the world? From the latest gadgets, flashy cars, and big homes to quick-fix advertisements and "age-defying" products, we're all too familiar with the worldly influences that try to dictate what our lives should look like.
These pressures can be overwhelming and lead to us straying from God, unintentionally. Let's look at how to stay rooted in faith, no matter what persuasive messages the world sends.
For Christians, it's important to make sure our devotion lies with God, not the temptations of the world. Although it may be hard to resist the devil's allure of earthly riches, it is our duty to reject greedy desires and focus on what matters to the Lord: our souls.
We have been granted the capacity to choose between selfishness and servitude. It's up to us to prioritize our faith over the allure of wealth.
11 Life Lessons from the Parable of the Rich Man
1. Be on your guard against all types of greed
Society idolizes those with wealth and affluence, often seeing them as a status symbol to be envied. But it's not simply having money that can be problematic — it's when our excessive desire for wealth begins to overshadow our care and concern for others that it becomes an issue.
Greed blurs our vision and distracts us from God's will.
Real-life and authentic living aren't about accumulating wealth; the Bible and Jesus' teachings stress the importance of loving one another instead.
In Jesus' words, it's not about material possessions, but rather about our spiritual connection with one another. Rather than seeking riches, we should strive towards forming meaningful relationships and shared experiences with those around us.
Luke urges us to stay alert and be aware of our actions. Greed won't bring us true satisfaction; rather, God seeks our selflessness and generosity. He promises to always provide for us abundantly.
Reflect:
Do you try to find solace in money or material possessions? Is your contentment derived from the amount of wealth you have – or is it never enough, even when you don't need more? What underlying anxieties lead you to pursue more wealth?
2. Christianity is not of this world
As a Christian, it's essential to remember that Jesus never promised an easy life or worldly rewards. Despite the high standards and values of the world, Jesus remained focused on the will of His Father.
If you find yourself conforming to these worldly desires, you're turning away from Him. The evil one is trying to tempt you into abandoning your faith. Don't let him lead you astray; cling to God and His word.
Christians must always be aware of the consequences of greed and covetousness. The promise of true and lasting happiness doesn't lie in the accumulation of worldly wealth, as Jesus laid out for us. Instead, His reward is of a spiritual nature, one that cannot be measured in money. Following His will should be our highest priority, as it is the only way to truly experience contentment.
Reflect:
When that final reckoning comes, we all face the same trial: to answer for how we've used the resources God has entrusted to us. If you were to stand before the Lord today, would He be pleased with your relationship to money? If it has taken up the majority of your thoughts and decisions, what can you do to ensure you are following His will? Consider the steps you can take now to make lasting changes in your life.
3. Jesus warned against all idols
When God commanded, "You shall have no other gods before me" (Exodus 20:3), many Christians mistakenly assume this only applies to the worship of false deities. After all, if they don't pay homage to Buddha or the gods of the sun and moon, then they must be in the clear, right? Wrong. Idolatry, in its most basic form, is tending to something or someone other than God, Absolute Truth, and Love.
Idolatry is anything that distracts us from worshipping God and obeying His commandments. It goes beyond worshipping any other gods – our own earthly desires can become idols if we put them above God. The Parable of the Rich Fools teaches us that greed can be an idol and urges us to be mindful of our own inner motivations. To truly serve God, we need to take an honest look at our hearts and discover which of our passions are truly idols.
Greed, often referred to as covetousness, is a major transgression, for it is tantamount to idolatry. When we greedily succomb to our longing for excess, we turn our hearts away from God and his people.
This includes the marginalized, lost, and forgotten– those who need us most. Instead of succumbing to greed, we should use our blessings to serve and honor God.
As Christians, it's important to keep Paul's advice to Timothy in mind:
Reflect:
No matter your circumstances, it's common for Christians to struggle with money. While having shelter, food, and a job are essential for security, it's also important to have a healthy relationship with money. Trying to make more money than you need may lead to sacrificing time with family and loved ones. It's important to consider how your relationship with money affects your relationships with those around you. Generosity is a key Christian value.
Do you choose to share what you have, or do you store it away, building bigger barns for yourself? Taking control of your financial decisions encourages sound stewardship of the resources God has provided.
4. Covetousness is a common human problem
Let's go back to the first lesson of Jesus' parable of the rich fool: Covetousness is a sin that can wreak havoc if left unchecked.
While we all may know this in theory, often it takes a clear example of this sin in action to make us aware of how it's present in our lives. This is exactly why Jesus taught this parable and why it's so meaningful for Christians today.
When the man came to Jesus, he was understandably concerned about his brother's refusal to divide the inheritance. Yet Jesus was aware of something even more pressing—a much bigger problem.
Yahshua (Jesus) saw right through the man's heart, and His focus was clear: He spoke directly to the people around him, saying, "And he said to THEM."
By demonstrating love and understanding, Yahshua (Jesus) shows us the path to a deeper, more meaningful relationship with God.
At first, the Messiah was talking directly to the man, but the message He delivered was intended for the entire crowd. In other words, Jesus was teaching them that covetousness is something that affects all of us—not just the man in front of Him.
His words served as a reminder that this is a temptation that can ensnare us all, and we must remain vigilant against its influence. As Christians, we must continue to be mindful of this teaching and strive to lead lives free of covetousness.
It only shows that covetousness is a common problem.
5. Take covetousness seriously
Covetousness is a serious issue in our world today, not to be taken lightly. Jesus Himself warned us of its danger in Luke 12:15. It's clear that we must all take a stand against the sin of greed. We must keep our eyes on what's important – a life focused on Christ and the love He gives.
Christ warned us by saying that we must take heed or take care.
According to Strong's Dictionary, the word take heed found in other translations came from the Greek word, "Horao."
Horao means:
Properly to stare at, that is, (by implication) to discern clearly (physically or mentally); by extension to attend to; by Hebraism to experience; passively to appear: – behold, perceive, see, take heed.
Christians, take heed: Beware of the lure of covetousness! Our Lord Jesus Christ warned us of its siren call in a powerful command: "Beware" (from the Greek "phulassō").
We must stay vigilant against the materialistic desires that can lead us astray and be cognizant of the early signs of their taking root in our hearts. Don't be complacent: Heed His warning and guard yourselves against covetousness.
Phulasso, derived from the Greek, means to watch, guard or preserve. It's a call for Christians to stay on alert – both spiritually and physically – and obey God's law, protect themselves, and observe their faith. In short: take heed and save yourselves.
We all know what it's like when we come across a "Beware of Dogs" sign – we know to stay alert and mindful of our surroundings. But there's something even more important that we need to be on guard for in life – covetousness!
We must stay alert and active in our fight against the pull of greed and envy, just as we would with any other potential danger.
We must look into every situation and be alert. We must realize that at any time, we might be guilty of covetousness.
When we see that we are feeling envious and covetous, we must stop it right there and then. We must not dwell on it, but rather we must overcome it.
6. Don't place your value on material possession
Christ issued an urgent warning that we must guard against covetousness, then offered powerful guidance: "You cannot serve both God and money" (Matthew 6:24). For Christians, this is an important reminder of our need to prioritize our relationship with the Lord above material gain.
And in Luke 12:15, He said:
Our Christian faith teaches us that the material wealth we possess does not define our life, so we must avoid covetousness at all costs. Let us remember that it is our faith in God and relationship with Him that is truly valuable.
Christ's message was clear: our lives should not be based on the value of material wealth. We must not let our possessions dictate our happiness.
Instead, our joy should come from a source deeper than our bank accounts. Choosing God's path and pursuing a life of faith, rather than material gain, promises the true and lasting satisfaction that we all seek.
We must not forget that although material wealth can contribute to the objectives in our lives, it should not become the end-all-be-all. Instead, it should be used as a MEANS to the ultimate goal of joining God's Kingdom.
In today's world, one's worth is often judged by the size of their wallet, their house, and their possessions. But God doesn't measure our value in tangible items. He looks at the condition of our hearts, at the level of our commitment to His cause.
Our worth isn't found in what we have, but in the service we offer to our Lord.
Covetousness can be a dangerous trap, promising us that true happiness lies in material wealth and riches. It is a lie, however, as the satisfaction we get from the things we purchase is only temporary.
Our persistent longings and desires can never be met with things of this world. The only One who can meet our deep need is God, with His never-ending love, grace, and mercy.
7. Our blessings come from God
The parable of the rich fool serves as an important reminder about the true Source of our blessings. Despite all of his wealth, the rich fool failed to recognize that it was God who provided him with those earthly riches, and by not giving thanks, he became a fool.
Christians must learn from this example and give thanks for all their blessings, understanding that it is God who has blessed them.
We read in Luke 12:16:
And he told them a parable, saying, "The land of a rich man produced plentifully,
When we take a closer look at the abundance of crops, it's clear that it was the Lord's doing—not a wealthy man's. After all, if God hadn't created the Earth, there would be no ground to produce a plentiful harvest. That's why the wise will always recognize that God's grace is the source of their blessings and not their own riches.
The problem with a covetous man who allows himself to be controlled by his possessions is that he believes he is the source of his own success. He believes he alone is responsible for what he has and forgets that his accomplishments are a gift from God.
He tells himself: "Since it is my ground, then it is I who made it flourish." "Since it is my brain, then it is I who is intelligent." "Since it is my hands, then it is I who is skillful." "Since it is my feet, then it is I who directs my path."
As Christians, it's essential to remember that any blessings or successes we experience are gifts from God. We must remain humble and grateful in all our endeavors, never forgetting who has provided these blessings.
Otherwise, our pride can lead us to take our talents, possessions, and successes for granted, blinding us to the source of our abundance.
Do you now understand the severe risks of coveting? Many of us forget that it was through the grace of God that we are able to generate wealth. Coveting can lead us away from Him and place us in great peril. Therefore, we ought to be mindful of our desires and thank the Lord for His generous blessings.
We read in Deuteronomy 8:18:
Brethren, be aware of the rich fool's fate – he was unaware of his foolishness. Similarly, we can fall into foolishness if we fail to recognize that greed is a vice. To be sure, God is the source of our blessings, so trusting in Him is the best way to resist coveting.
Remembering the Lord's provision is the key to overcoming the temptation to be greedy.
We should be mindful that it is not our own power or capability that brings us the many blessings we enjoy. Being aware of this leads us to give thanks and shift our focus from ourselves to God and our neighbors. Doing so allows us to take full advantage of the abundance of grace and mercy given to us by Him.
8. Choose to be grateful
God showered the wealthy fool in Jesus' parable with bountiful blessings, but the man remained ungrateful and even grew concerned about how to manage his tremendous harvest. Despite his overflowing crop, he did not recognize God's grace.
Instead, the rich man missed the opportunity to give thanks to the Lord and ended up hoarding his blessings. Christians can learn an important lesson from this story: remember to be thankful for the Lord's gifts, no matter how big or small.
9. Choose to be selfless
Covetousness is a pervasive issue in our society, with many Christians motivated by a relentless pursuit of self-interest. This type of character flaw is marked by a man who is so consumed by a desire for more that he neglects to think of others or to share his blessings.
In essence, he is viewing the world from a selfish perspective. Of course, this is not the attitude that God expects from his children, and it cannot be the foundation of a healthy relationship with Him.
Instead, we read in Luke 12:18-19:
The form you have selected does not exist.
As Christians, we mustn't let covetousness take hold of our hearts. Scriptures reveal how closely intertwined our desires are with our temptations.
Take a closer look at the verses and you'll notice the abundance of "I's" and "my's" — this is the way of a covetous man, always thinking of himself and not of others.
To move past this tendency, it is essential to become more selfless. With this comes the potential for love, hope, and joy that can only be found through God.
You must choose to be a blessing to others.
When it comes to wealth, your primary motivation should be to become a channel through which God can bless others. Instead of asking for riches, seek God's guidance to become a conduit of His grace—not just for your own benefit, but for the benefit of Christians everywhere.
9. True security is found in God
When someone is driven by greed, they may rely on their physical possessions for a sense of security. But this is something we can all learn from the Parable of the Rich Man.
As Christians, it's important to always remember that our time on this earth is finite and to be ready when our time here is up.
We read what happened to him in Luke 12:18-20:
For Christians, the pressing reality of our mortality is too often overlooked in our striving for earthly possessions. We assume that obtaining money, a bigger house, more security, and other such things will bring us joy and satisfaction.
But in the blink of an eye, we can become ill or even pass away before we get the chance to enjoy these short-term pleasures. What use are these material comforts in the face of eternity?
The rich fool thought he could secure his future merely by amassing his own wealth and possessions. But as Christians, we know this is not the case.
Security and security can never come from things, but only from God. With this understanding, we can live our lives fearlessly relying on the Lord's provision.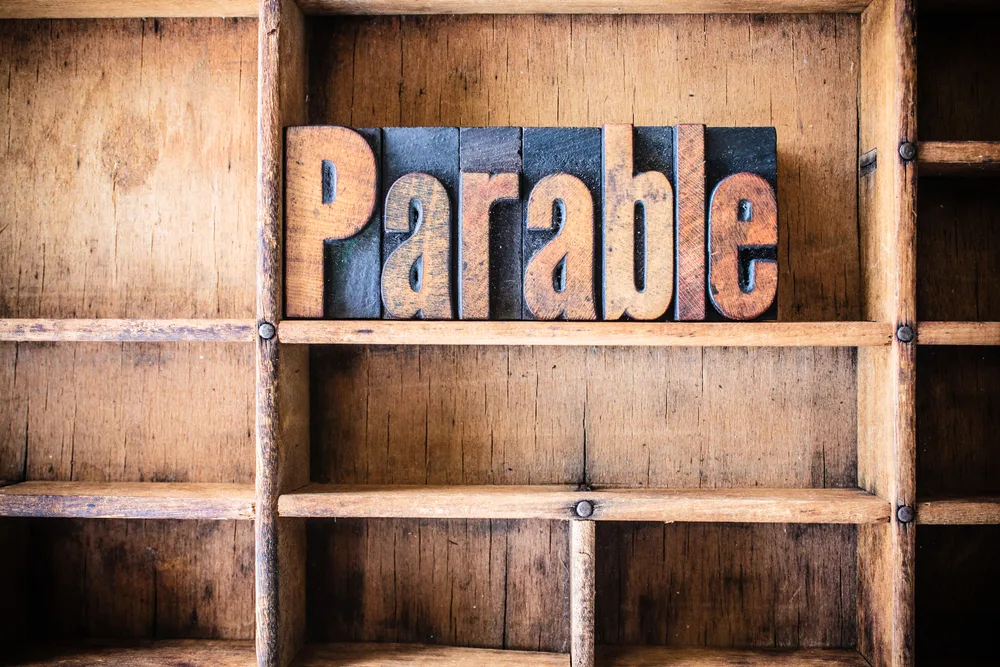 In the uncertain world we inhabit, we have no guarantee that we will live to see tomorrow, next week, next month, or even next year. As Christians, we must remember that Christ could return at any time, and guard our hearts against the temptation to covetousness.
With this perspective, we can live life now with peace and contentment, knowing that we are always prepared for our Lord's second coming.
When our faith is in God, we can find true security without relying too heavily on material possessions. Rest assured, true security can only be found in trusting Him.
By relying on His faithfulness and goodness to provide what we need, we can experience true security in our lives.
10. True richness is found in God
Christ ended the parable of the rich man by saying in the last verse of Luke 12:13-21:
Christians must recognize the moral lesson that true wealth and fulfillment cannot be found in the wealth of this world. Instead, the riches of life are found in making God our top priority and dedicating our lives to doing His will. When we center our life around God, we will discover contentment and joy that nothing else can rival.
Dreams are a part of life, and striving to be more comfortable is an admirable pursuit. But when material possessions control your desires and your actions, it can lead to a dangerous covetousness. Strive for success, but don't let your possessions possess you.
The Scripture gives us a dire warning against covetousness.
If you're a Christian, you know that covetousness can be destructive. It can mislead us, stoke negative emotions, encourage self-centeredness, and lead us away from our faith.
That's why it's vital that we strive for spiritual, rather than earthly, wealth. True riches come from God, and He alone can provide the opulence we seek.
We read in Matthew 6:19-21:
Good news, Christians! If you're aiming to lay up treasures in heaven, you can be certain it's safe. These eternal riches can't be stolen, corrupted, or lost – a security that's truly beautiful. So don't hesitate – start storing up your heavenly wealth today!
So, if you want to be truly rich, you need to remember Matthew 6:33:
What is the ultimate lesson in the Parable of the Rich Man?
The Parable of the Rich Man is a paramount lesson for all Christians: when the temptation of wealth and excess consumption of material goods takes hold, we are neglecting God's most important commandment to love Him with all our hearts, souls, and minds.
When our earthly lives end, we will ultimately be judged on our relationship with money, and our refusal to value the spiritual above the physical.
You may enjoy this video lesson the the meaning of the parable of the rich man:
Or one of these recommended resources:
Parable of the Rich Man by Kirk Beasley
The Parables: Understanding What Jesus Meant by Gary Inrig
ESV – "Scripture quotations are from The ESV® Bible (The Holy Bible, English Standard Version®), copyright © 2001 by Crossway, a publishing ministry of Good News Publishers. Used by permission. All rights reserved."