This page/post may contain affiliate links. As an Amazon Associate, as well as an affiliate of other programs, this means if you purchase something using these links, I will receive a commission on qualifying purchases at no cost to you! For more detailed information, please visit our Affiliate Disclaimer page
A wife of noble character is her husband's crown, but a disgraceful wife is like decay in his bones. – Proverbs 12:4
This verse is one that some women glance over and move on because the tools mentioned are not those commonly used in our modern society. Distaff and spindle. Biblehub explains what these items are: "Till comparatively recent times the sole spinning implements were the spindle and distaff. The spindle, which is the fundamental apparatus in all spinning, was nothing more nor less than a round stick or rod of wood, about 12 inches in length, tapering towards each extremity, and having at its upper end a notch or slit, into which the yarn might be caught or fixed. In general, a ring or whorl of stone or clay was passed round the upper part of the spindle to give it momentum and steadiness when in rotation. The distaff or rod was a rather longer and stronger bar or stick, around one end of which, in a loose coil or ball, the fibrous material to be spun was wound. The other extremity of the distaff was carried under the left arm, or fixed in the girdle at the left side, so as to have the coil of flax in a convenient position for drawing out to yarn."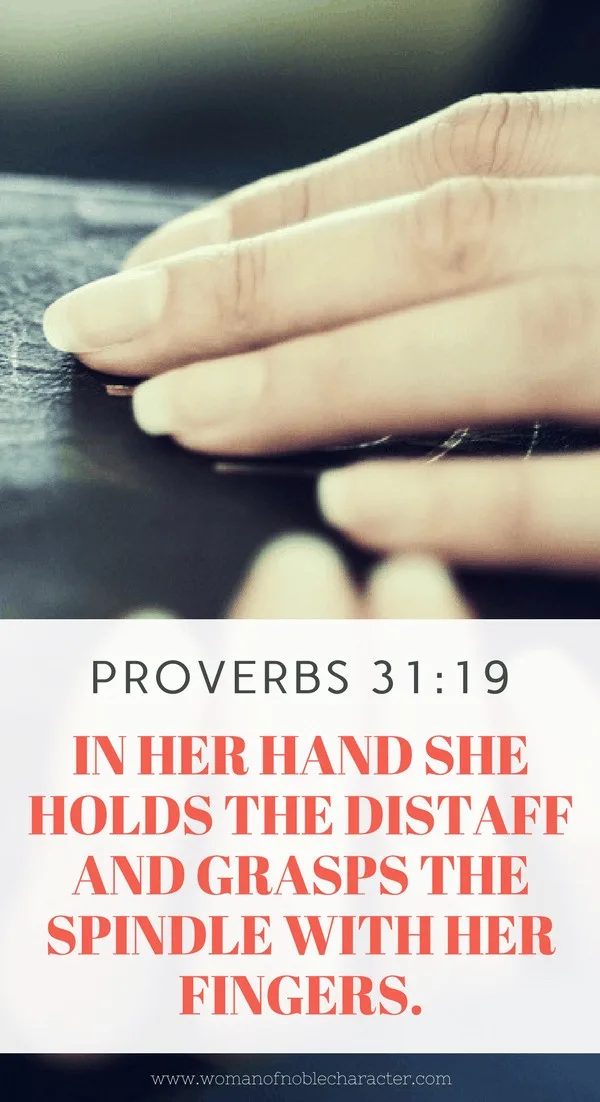 A Wife of Noble Character in Biblical Times
I'll admit, these are not tools that are commonly (if ever) used today, but it's important to look at them to understand that spinning yarn was hard work on the hands. As we've learned, the Proverbs 31 woman isn't afraid of hard work, and often, her hands take a beating. Hands are mentioned throughout the Bible, and we'll be discussing that in a future post, but take note that hardworking hands are not enough.
A woman needs to be skillful at her tasks. In biblical times, God prepared women to be skilled in spinning the various fabrics for the complex decorating of the Tabernacle (Ex 35:25-26). The English language originally called such skillful women spinsters, though that name now has very different connotations. A woman must know how to do domestic and other hand tasks skillfully in order to be a virtuous wife.
The virtuous woman of Proverbs 31 was a very competent woman at many levels. She bought and managed commercial real estate and manufacturing businesses to help build the family estate (Pr 31:16,24), and she could also spin thread from raw materials. She could take a spinning wheel and loom and teach maidens how to make cloth perfectly (Pr 31:15). She could do the work herself, show how it should be done, and teach others.
The Modern Day Wife of Noble Character
The modern-day wife of noble character does not spin cloth to make clothes. It would be a waste of her skills and time. She can buy clothes at the mall (or online!) that are made well and not terribly expensive. She makes better use of her time by learning other skills (mending, cooking, knowledge in her profession, etc.) and using her earnings to buy the clothes and other household items that she needs. But when the situation calls for it or out of neccesity, she can "do it from scratch," whether in the closet or the kitchen. When she needs to, she can make cakes not from a boxed mix (although, sometimes, it's the way to go!) and can cook to satisfy her husband and family. (Gen 18:6; 27:9). This is a woman worth more than rubies!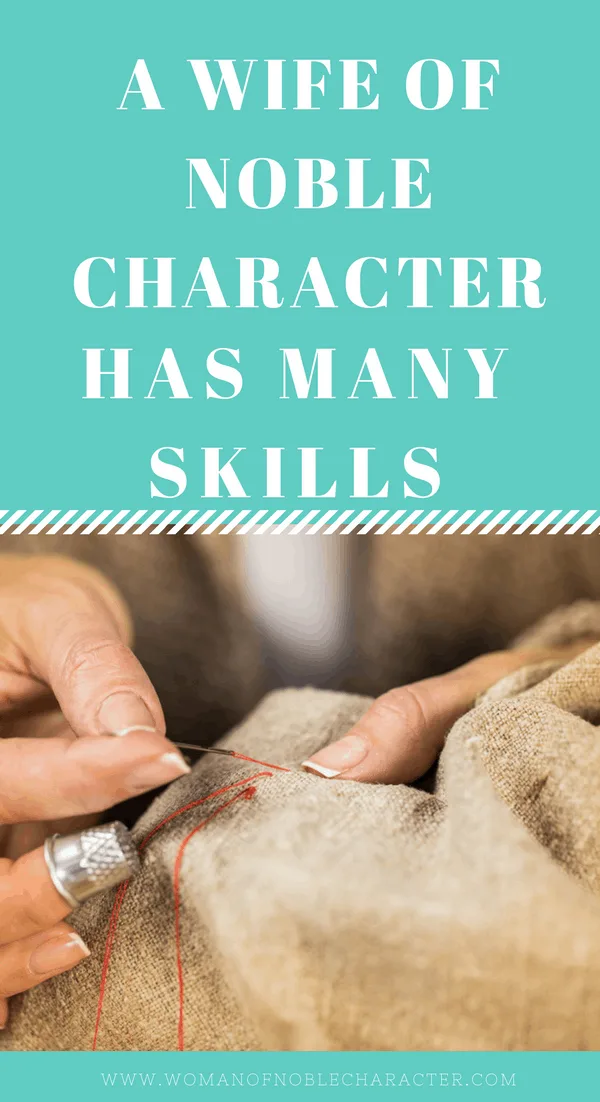 What should a woman learn to do skillfully today? Plan and prepare good meals for your husband and family. Learn to use or improve your computer skills for research, when needed. Know first aid and how to mend clothing. (This is one that I honestly am terrible about!) Plan her days and weeks to be productive. Communicate effectively with her husband, co-workers, and fellow church congregants.. Know how, where, and how to buy food and household items at the best prices. Balance her checkbooks. Decorate a house for appeal, comfort, and investment. Find and use the best appliances and tools inside and outside the house.
This is the perfect woman, as described by a mother for her son (Pr 31:1-2,10). She fears the LORD with all her heart (Pr 31:30). Her husband can trust in her completely because she will do him good and right every day of her life (Pr 31:11-12). After these two priorities, she is a diligent worker to provide for her family, and her home, and build the family estate in any way she can. She is diligent and skillful in the use of her hands.
What do your hands do in the course of your day? What skills do you think a wife of noble character needs to be successful in today's world?
For the previous post in this series, click here.
If you want to dig deeper, check out my book, The Complete Proverbs 31 Wife: A Verse by Verse Exploration of What it Means to Be a Proverbs 31 Woman in Today's World.
Because of Him,
Sue
For more on the wife of noble character and her skills, see this previous post.