Speak with Wisdom and Faithful Instruction
This page/post may contain affiliate links.  As an Amazon Associate, as well as an affiliate of other programs, this means if you purchase something using these links, I will receive a commission on qualifying purchases at no cost to you! For more detailed information, please visit our Affiliate Disclaimer page
She opens her mouth with wisdom,
and the teaching of kindness is on her tongue. –

Proverbs 31:26 (ESV)
Ouch! I'm going to be honest here with you friends. God is convicting me with this verse. When I pray, I ask Him to shine a light on any areas of sin in my life or any area that He wants me to work on. Well, my friends, he didn't just shine a light. He has a million watt spotlight pointing right at this one.
Now, don't get me wrong. I'm careful not to curse and try to speak kindly to my husband and children, but there is so much more to speaking with wisdom and faithful instruction than not using curse words.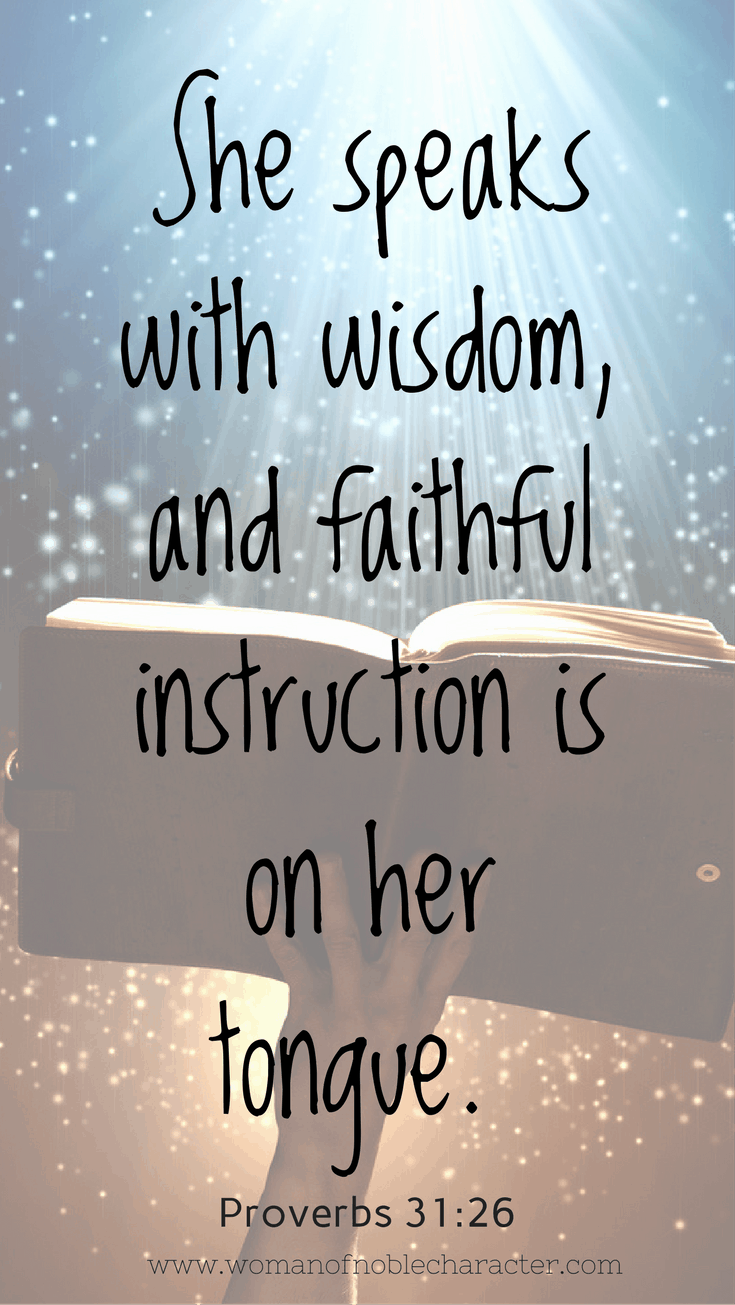 The words we speak have the power to build up or tear down those around us. Even when we aren't talking directly to someone, God hears us. Take for example, recently, after church, as we were walking to the car, I said something to my husband about a fellow congregant. Something along the lines of "Can you believe what a jerk he is?". As it was coming out of my mouth, I realized that, although I didn't say it to the man's face, I was not speaking with "wisdom and faithful" instruction. I felt God convict me nearly instantly.
My words were spoken to my husband (about someone else), but the words I speak can have a lasting impact on those around me. My husband heard me tear down, not build up another. Does he wonder if I talk badly about him to others when he is not around? Are my words showing that I have Christ in my heart? In this case, clearly they didn't. Ouch.
Let no corrupting talk come out of your mouths, but only such as is good for building up, as fits the occasion, that it may give grace to those who hear. Ephesians 4:29
Harsh words, critical tone of voice, impatience, sarcasm, gossip, complaining, grumbling, yelling… there are so many ways we can hurt others with our words.
Be mindful of the words we are speaking
In this verse, the translation of wisdom in Hebrew is torah and means: "direction, instruction, law." Not a bunch of rules, but the law of mercy, kindness and grace.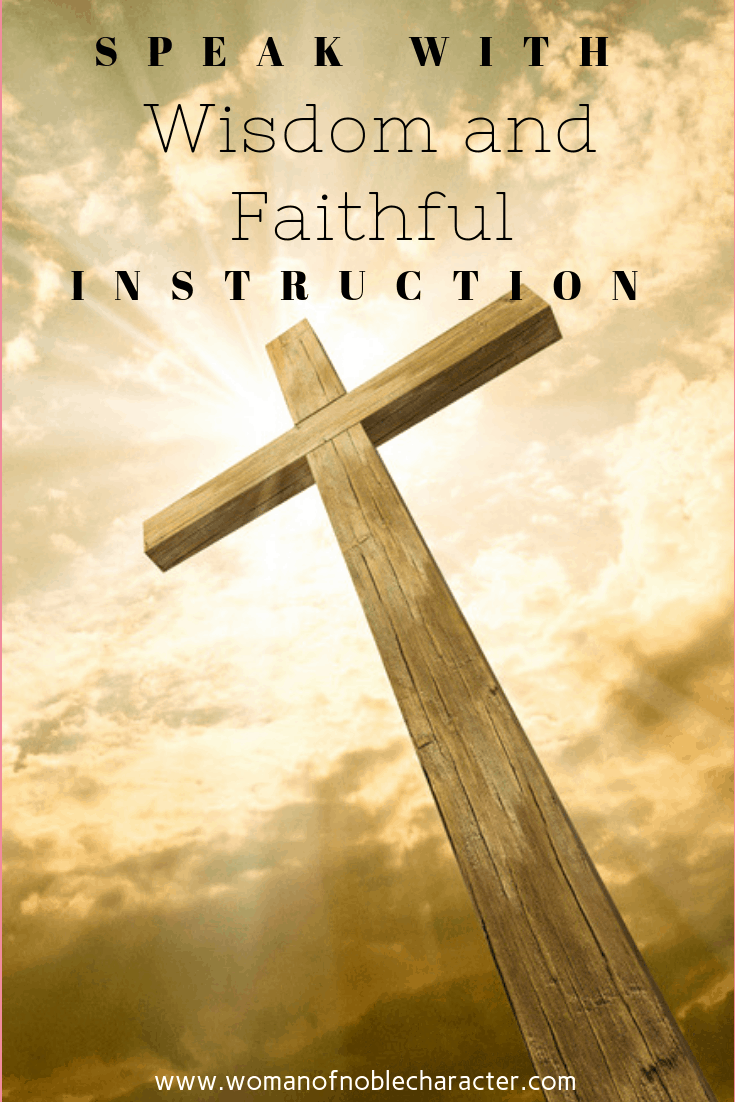 She's teaching her family about God's loyalty, faithfulness, and the most beautiful of all: loving-kindness. The word used is the Hebrew word, hesed. (or chesed). She is teaching her family and demonstrating God's loving kindness with her words. Do I always do that? Ouch, again.
This Proverbs 31 woman probably talked about what was for dinner or what needed to be done in the home, but her most important words were those speaking in God's love and demonstrating His loving kindness. (hesed).
Before you open your mouth, think of what is about to come out and that God is listening, too. Does it build others up? Does it demonstrate God's loving kindness? If not, think about how you can rephrase your word or perhaps, not say them at all.
Is God shining a light on this for you, too? What can you do to ensure that you are speaking with wisdom and faithful instruction?
My favorite Proverbs 31 resources are listed below:
Or my book, The Complete Proverbs 31 Wife: A Verse by Verse Exploration of What it Means to Be a Proverbs 31 Woman in Today's World.
Because of Him,
Sue
Take a look at this post to learn how to bring your husband good, harm. It might not be what you think!